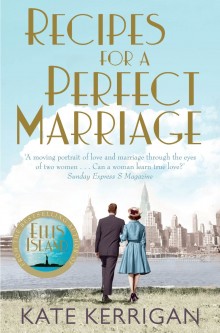 Recipes for a Perfect Marriage
Chick-Lit, Irish
Pan
336

Tressa is a New York food writer in her late thirties. Just home from her honeymoon, after marrying the gorgeous Dan, she already doubts their marriage. Convinced that she married Dan because she was terrified of being left on the shelf, Tressa wonders if she has made a terrible mistake.
Bernardine was Tressa's grandmother. Born in Ireland in the 1930s, she was married off by her family to the local schoolteacher. Unable to raise the dowry needed to marry her own true love, Bernardine resists her new husband every step of the way.
Each woman turns to cooking for solace. For Bernardine, it is a way of showing her new husband that although she will never love him, she will be a dutiful wife. Tressa, during her first year of marriage, works through her grandmother's recipes, hoping that the essence of her grandmother has somehow been retained in the food she used to cook.
Recipes for a Perfect Marriage is a lovely read. Told in the two voices of Tressa and Bernardine, Kerrigan challenges the modern idea of romantic love and ponders whether true love can really be learned. An added bonus to this book are the recipes detailed at the start of each chapter. Even if you don't enjoy Kerrigan's writing, her recipes will make your mouth water.
July 2005