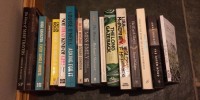 I took a quick pic of the books that I enjoyed over the past year/18 months. Here are some thoughts on some of them…
Anne Enright's The Green Road, which I just finished this evening, contains a description of Celtic Tiger Christmas dinner shopping I doubt will ever be topped in fiction. The rest of it is pretty superb too. I felt like going right back to the beginning to read it again.
Lisa McInerney's The Glorious Heresies was one of my summer reads this year. Highly recommended
Louise O'Neill's Asking For It is a brilliant, harrowing book I'm keeping for the day my daughter is old enough to read it. O'Neill's Only Ever Yours would have been in the pic too, but I've loaned it to a friend. That one's set to be a classic. If you haven't read it yet, do.
I've been going through a phase of reading fictionalised accounts of the lives of real people and into that category go Nuala O'Connor's excellent Miss Emily (set during a year in the life of Emily Dickinson); Eibhear Walshe's The Diary of Mary Travers, which I thoroughly enjoyed not least because it's set in Mitchelstown, near where I live. Travers had a notorious affair with William Wilde, father of Oscar. Patricia O'Reilly's The Interview, a fictionalised account of a never-published interview between the designer/artist Eileen Grey and Bruce Chatwin; Hugo Hamilton's Every Single Minute, a remarkable novelised account of the final days of writer Nuala O'Faolain, during a trip to Berlin.
I read some great fiction this year, including two books that reminded me of each other – both accounts of the singular lives of isolated, forest/mountain-dwelling men: Gerard Donovan's Julius Winsome and Robert Seethaler's A Whole Life. Both excellent.
I think my absolute favorite book this year was Ann Patchett's book of personal essays, the unfortunately named This is the Story of a Happy Marriage. It is not really the story of any such thing (although there is a happy marriage in it). It is a clever, brilliant, big hearted, intelligent collection of some of the best, most insightful personal essays I've ever read, about writing, life, love, loss, wisdom gained. I want to give it to everyone.
– The Writer