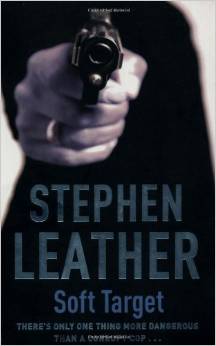 Soft Target
Fiction
Coronet
2005
520

Although I have not read Hard Landing by Stephen Leather, the prequel to Soft Target, the name Stephen Leather rang a bell with me. So when this book arrived, I settled down to what I imagined would be a good read. Luckily I was not disappointed.
Dan 'Spider' Shepherd is an undercover cop, working ostensibly as a hired killer. Larry Hendrickson, part owner of a technology company wants his partner dead and Dan's alter ego, Tony Nelson, is the man who is going to carry out the hit. With Larry's partner stashed in a safe house, the case is supposed to wind up with the arrest of Larry – but Larry has a friend with a similar problem. This time, though, it's the wife of a criminal the police have been chasing for years and Dan is not going to be allowed to walk away.
His new undercover role is investigating a specialised police unit, which internal affairs suspect of murder and drugs theft. As a policeman, investigating other policemen is the worst job you can get. Unless, of course, you have to go undercover, pretend to be their buddy and then maybe bring them down.
With the pressure of maintaining two undercover operations and all that go with them, Dan's personal life is being neglected. His wife is dead and his eight-year-old son is being cared for by his in-laws, a situation Dan is desperate to resolve. But, until he can find a full-time nanny to mind his son, Dan's life is just going to get more and more complicated.
Leather has produced a fantastic thriller that races along at an acceptable pace, never going so fast as to confuse the reader. This book reminded me of Lee Child's novels about Jack Reacher, always a reliably enjoyable read. I'm off to buy Hard Landing.
April 2005