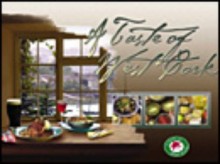 A Taste of West Cork
Cookery
Feb 1 2005
49

West Cork is a place apart. This book is very much a product of the region, presenting recipes that will both delight the senses and guide the user to the natural qualities and flavours innate to West Cork. Chef Rory Morahan brings a modern twist and style to all of his dishes. Traditional recipes like brown soda bread and stuffed pigs' trotters sit comfortably with the more adventurous, allowing both the novice and the cordon bleu inspired reader to be stimulated. Seven menus are suggested incorporating recipes for starters, main course and desert. Soups, such as nettle and potato and mussel, have their own section - truly Irish dishes. For those who want to revisit the 'pub' in the comfort of their own homes, there is a 'pub grub' section with a truly authentic menu. There is ample choice to experiment with basic recipes like plain scones and vegetable stock before tantalising taste buds even further by embarking on the main menus. Chef Rory Morahan refined his skills in some of the world's finest kitchens, including the Dorchester and Ritz in London and the George V in Paris.
The revitalisation of local Irish foods and small artisan producers in recent years has gone from a whisper to a scream. Initiatives like weekly Farmers Markets and Slow Food have spread throughout Ireland while West Cork, ahead of the rest, has its devoted Fuchsia Brand – a quality symbol for the food in the area. Set up by the West Cork LEADER Co-Operative Society in 1998, this regional branding campaign gathers together food products, from Ó Conaill Chocolates of Carrigaline through Veronica Steele's legendary Milleens Cheese and the Kinsale Brewing Company, under a benevolent umbrella.
This publication, A Taste of West Cork incorporates recipes from chef Rory Morahan, using ingredients from the Fuchsia Brand, alongside address of producers and stockists. Stuffed Pig's Trotters, Glazed Skeaghanore Duck and an unusual Stout Bérnaise Sauce are among the recipes on offer with a particular emphasis on soups, including nettle, and some tasty sounding West Cork Breads. These are given a context by food historian Regina Sexton's writings and information on individual food producers from editor Ivan McCutcheon.
More of a training manual than a cookbook – this was developed in association with Fáilte Ireland as part of a training programme for local tourist establishments – it is to be devoutly hoped that the pub and restaurant owners of Ireland, not just those in West Cork, will be both influenced and inspired by A Taste of West Cork. That's not to say that home cooks will not enjoy the book although its calendar-like appearance is somewhat off-putting.
 Interested in books, food or books about food? Check out our sister site Bibliocook.
August 2004