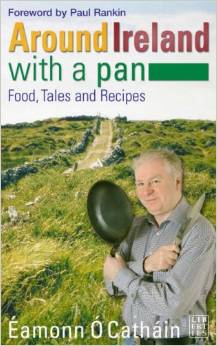 Around Ireland with a Pan
Cookery

Irish chef Éamonn Ó Catháin will be a familiar face to anyone who's ever flicked to TG4 and caught Bia's Bothar, his food series as Gaeilge. Entertaining and informative, his trip through the foodie highways and byways of Ireland was something that'd been done many times before but Bia's Bothar was none the less enjoyable for that.
Around Ireland with a Pan is a variation on the same theme. With a chapter devoted to each of the 32 counties, Ó Catháin muses on the changing face of Irish food, gives restaurant recommendations and even throws in a few recipes along the way. It's a light-hearted read, which is divided halfway between guidebook – pity there's no map included – and cookbook. While the recipes may not necessarily have a huge amount to do with the county he's writing about – Chicken Fried Rice is under Tipperary for the simple reason that he would be killed if he didn't put it in – they're often mouthwateringly useable.
A former head chef and restaurateur himself, Ó Catháin is prone to waxing lyrical on meals he's eaten in establishments some of which, frustratingly, no longer exist. But, of those that still do some, including Neven Maguire's McNean Bistro and Denis Cotter's Café Paradiso, contribute their own recipes to proceedings. Around Ireland with a Pan is a mixed bag but most of which it contains is well worth knowing about and Éamonn Ó Catháin is to be commended for shining a light on the ever-growing legions of talented chefs and dedicated suppliers in Ireland today.
 Interested in books, food or books about food? Check out our sister site Bibliocook.
September 2004