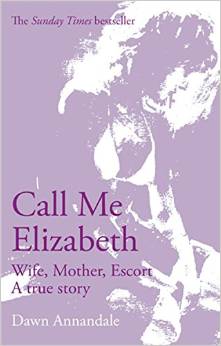 Call Me Elizabeth
Biography & Autobiography
Warner Books
2006
290

Dawn Annandale did not have a particularly pleasant childhood, her father began to sexually abuse her when she was eleven. She spent her teenage years coming up with excuses to stay away from home and at the earliest opportunity she got a job and moved out. Her childhood did nothing for her, except to make her crave a happy, secure and safe environment to live in.
Her first marriage ended badly, she was left literally holding two babies and penniless. When she met Paul, her second husband she believed that she had finally found everything she had longed for. Paul was tall, strong and had a good career, he got on with her kids and they seemed to want the same things from life. They got married and before long Dawn was pregnant with her sixth child. Unable to deny her children anything and wanting every advantage for them that she had not received, Dawn sent her children to private schools; they wore clean, new uniforms and availed of every extra curricular activity on offer.
Before long though Dawn was struggling, six children to support and a husband who had no ambition was an expensive life to lead. The bills started to mount up and envelopes were shoved, unopened into a kitchen drawer. Fiercely protective of her children's lifestyle, and unwilling to disrupt their happy, safe lives, Dawn struggled on. Using ingenuity she managed to feed and clothe her children by bouncing small cheques and using credit cards, until finally one day the bailiffs came knocking.
Dawn was forced to face up to the truth: they were £30,000 in debt, they were about to lose the house and everything she had fought so hard for, for her children, was about to disappear.
With no alternative – as to Dawn losing her children's home, changing their schools and declaring bankruptcy was not an option – Dawn went on the 'game'. For three years she worked as a high-class escort, catering to her clients' every whim, including some incredibly debauched ones, Dawn paid off all her debts and started to save some money. Servicing up to six clients a night somehow Dawn managed to lead a double life. By day she was the perfect mother, she never missed a PTA meeting or a school concert. She was renowned for running the cake stall at every school fete; her children had everything they needed. At night while her children slept, safe under the watchful eye of a babysitter, Dawn adopted her alter persona, Elizabeth: sexy, attractive and available to anyone who would pay £150 an hour.
Dawn experienced many different things during the three years she worked as an escort, men urinated on her, she participated in threesomes, S&M, she experienced fetishes that you nor I wouldn't know how to begin to understand, and she was raped, once by a client and once by a friend's husband who knew she was on the game. Yet every morning she got home before her six children woke up, cooked them breakfast, packed their lunch boxes and drove them to school.
Call Me Elizabeth is Dawn Annandale's biography. Written with the aide of a ghostwriter, it is a touching account of a life that none of us would ever wish to experience. You cannot help but admire Dawn Annandale; how far would each of us go for our children? Most of us will never have to answer that question, but in Call Me Elizabeth, Dawn's answer is loud and clear – quite simply she would do and has done anything…
May 2005