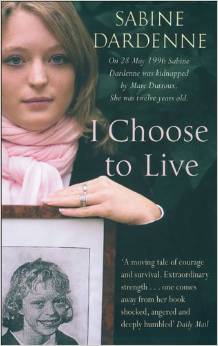 I Choose to Live
Biography & Autobiography
Virago Press
2006
213

Sabine Dardenne's memoir is probably one of the most difficult books I've ever read. It was hard to read, not because of the language, or the format, or the style, but because it was one of the saddest and most upsetting accounts I've ever come across in a book.
Marc Dutroux was sentenced to 13 years for the rape of two children in 1989, but was released after three years on the basis of "good conduct". On parole, he was obliged to see a psychiatrist. He was given the tranquilliser Rohypnol – otherwise known as the "date rape" drug – but secreted the tablets in his cheeks and later used them to sedate his victims.
Sabine Dardenne was kidnapped by Dutroux at the age of 12 while cycling to school. She was then drugged, driven across the country and held for 87 days by the monster. During her capture he sexually abused her on an almost daily basis and eventually raped her. She was held in a tiny room hidden behind the kitchen. Given nothing but mouldy bread, biscuits and milk to eat, Sabine stopped herself from going crazy by fighting him every step of the way. She was eventually found when Dutroux decided to get her a 'friend': Laetitia. Luckily Laetitia's kidnap was witnessed and Belgian police found the two girls six days later. Not before Dutroux had also raped Laetitia.
It took seven years for the case to come to trial, Dutroux was found guilty of kidnapping six girls and murdering four. His wife was found guilty as an accomplice and was sentenced to twenty-three years imprisonment.
From the moment she was found, Sabine refused to see a psychiatrist, instead choosing to deal with her abuse herself. The reason she wrote this book was that seven years later, with the court case thrusting the media limelight upon her once again, she needed to heal.
Although Sabine has not included any of the details of the abuse, she has recounted in huge detail every other aspect of the experience; four pages in, my stomach was churning.
Sabine is a brave and tough survivor, a "stroppy little madam" is how she describes herself. I have nothing but admiration for her. She is determined to live a normal life and to shake the label of 'victim'. I do wonder though why this book was published. I understand Sabine's need to write it as part of the healing process but publishing it is a different thing. As a work of literature and putting aside my personal feelings, it's not a very good book. The only reason that it is a worthwhile read is to learn about the depravity of the human psyche. Unless you are made of pretty stern stuff, this book will upset you greatly. If you have an overwhelming curiosity about Dutroux and the Belgian justice system read it, if not leave it where it belongs; on the shelf.
June 2005