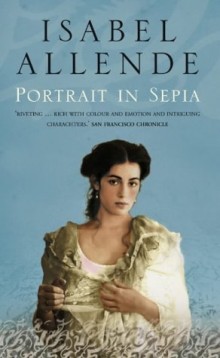 Portrait in Sepia
Literature
HarperCollins UK
2002
304

If you are an Isabel Allende fan you'll already know what to expect from her new book. 'Portrait In Sepia' is a densely plotted tale set amongst an extended family, peopled by unforgettable exiles and marginalized characters and written in Allende's typically rich and sensuous manner. This is the third in a loose trilogy, which Allende began in her debut novel 'The House of the Spirits' (published in 1982) and continued in last year's 'Daughter of Fortune'. Ostensibly the story of Aurora del Valle, this book is actually the tale of three generations of her family including grandmothers, cousins, uncles and husbands in San Francisco and Chile in the second half of the nineteenth century.
Aurora is a beautiful and passionate woman who has been tormented by horrific nightmares since her childhood. Born in 1880, she spends the first five years of her life in the San Franciscan Chinatown with her maternal grandparents, the Chilean/English Eliza Sommers (heroine of 'Daughter of Fortune') and a Chinese healer named Tao Chi'en. When Tao dies, Aurora is sent to live with her other grandmother, the fiery but loving matriarch Paulina del Valle, firstly in her San Francisco mansion and then in Chile.
Brought up with far more freedom than many young girls her age, she discovers a talent for photography. This skill brings to light the betrayal in her marriage, eventually leading Aurora to explore the gaps in her childhood memory so that she uncovers the reason behind her nightmares and, in coming to terms with her past, discovers an independent yet passionate future for herself.
This story of one woman's journey towards an understanding of her own – and her family's – past is inextricably linked to turbulent times in the history of San Francisco and Chile. Fascinating from a historical as well as literary perspective, 'Portrait In Sepia' does not disappoint.
November 2001