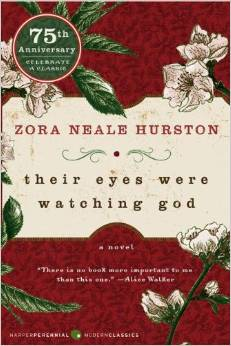 Their Eyes Were Watching God
Literature
Harper Collins
2006-05-30
256

Meeting: Friday 21st November 2003
As a first choice for the book club, I choose Zora Neal Hurston's 'Their Eyes Were Watching God' because of it's huge influence on other American writers such as Toni Morrison, Alice Walker and Maya Angelou. Hurston's writing was not as well received by other authors of her time, such as Richard Wright (Native Son & Black Boy), who found her works to be degrading to black people and their culture. I thought that both the story as well as the author's impact on other writers would spark some interesting debate.
Their Eyes Were Watching God is a coming of age tale that opens with a fatigued Janie returning to her hometown after a long and emotional journey. She starts to tell her story, which spans over her life time, sharing words of love, dreams, hope, struggle, laughter and loss. Hurston's gift with this beautiful novel is shown through dialogue you can hear as you read, characters you can see sitting in front of you, and a brilliantly woven story line that encompasses many aspects of our emotional trials on this earth. Along with all the depth and wisdom found between these pages, there is also a certain magic and mysticism that lends so well to the air of one truly discovering life.
Upon reading this book, one is sure to find many delights in her story- laughing out loud, rereading certain passages to absorb even more of it's beauty, and relating to at least one if not many of the vivid characters and their daily trials. One definitely to put on my favourites list, Hurston's wise words have even found themselves scribbled on bits of paper and scattered about the house. Highly recommended by myself and the femmes… Happy Reading!
5/5
Score awarded by Bibliofemme: 4.3 out of 5
What the other femmes had to say

"The dialogue might take a wee while to get used to but that's the only stumbling block to this extraordinary tale. Zora Neale Hurston's turn of phrase and imagery is something that remains long after the book is finished." 4/5
"Hurston's brilliant work about one woman's self-realisation is beautifully told, rich with wonderful dialogue and full of philosophical wisdom relevant to everyone." 5/5
"Once I got my head round the dialogue I really enjoyed it, some beautiful discriptive prose – a wonderful read." 4/5
"The universal story of searching for yourself and fulfillment told in one woman's vernacular. Full of humour, poignancy and common sense." 4/5
"There is vivid life in the language and a well of wisdom in the words: a book I will return to again and again." 4/5
"I remember that I first read this almost 15 years ago. Can't believe I forgot some of it, eventhough I found some lines I had transcribed from it into an old notebook – something I rarely do. So it moved me then and it moved me again. Beautiful." 4/5