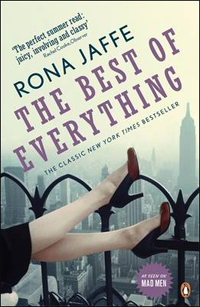 The Best of Everything
Classics, Literature
Penguin Classics

The writer came to stay before Christmas and bereft of good reading material I asked her for some recommendations. The Best of Everything by Rona Jaffe was top of the list she tapped into a note on my iPhone and was the first of her recommendations that I purchased.
First published in 1958 the book is enjoying a second life thanks to the TV show Mad Men. In season one, the show's main character, the advertising genius Don Draper, was seen reading The Best of Everything in bed – the better to learn about young American women and their hearts' desires – with the result that, soon after, in the US, Penguin republished the book. Now Penguin UK is following suit.
The book tells the story of four young female employees of a New York publishing company in the 1950's. The four are all completely different, Caroline who is an Ivy League graduate and dreams of an editor's office, April, the naïve country bumpkin who gets a makeover and becomes every man's dream. Gregg the struggling actress who really just wants to get married and Barbara the divorced single mother who struggles to keep a roof over her daughter's head.
That synopsis reads like a standard chicklit byline but this book is far from chicklit. When it was first published in 1958 I can only imagine the interest it generated. It was one of the first books of it's time to identify with the young female professional, who longed to better themselves and fall in love (some things never change). It is an emotional book complete with sexual harassment – though it wasn't called that in those days, alcohol, sex and a backstreet abortion.
What's interesting is that despite the fact some of the issues are dated, others are timeless:
How to deal with the sexist dolt who is your boss? When he puts his hand drunkenly on your thigh, do you knee him the groin, or smile beatifically and pray for a raise?
It's beautifully written and as a debut novel I can only imagine what Jaffe went on to do.
This book is a classic and a must read for women of all ages.