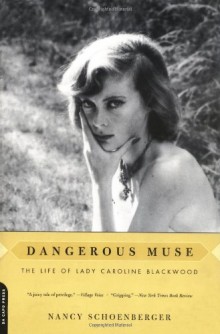 Dangerous Muse
Biography & Autobiography
Da Capo Press
2002
400

"Mad, bad and dangerous to know" was Lady Caroline Lamb's verdict on Lord Byron in the early nineteenth century. The same description could be applied to the beautiful Caroline Blackwood (1931-1996), a member of the celebrated (and perhaps cursed) Guinness family who, as part of the Anglo-Irish aristocracy, was brought up in County Down.
With remarkable large expressive eyes, Blackwood was described as "heart-stoppingly beautiful, but vague". Throughout her life, she attracted scandal and unstable men, surrounded by the famous artists, painters and poets of her age. Frequently drinking heavily to cover up her paralysing shyness, this became a problem in her later years when she was a "problematic house guest", her looks ravaged by alcoholism and incessant smoking.
Born to Basil, 4th Marquess of Dufferin, a close friend of the poet John Bentjeman, and Maureen, one of the 'Fabulous Guinness Girls' of the 1920s, Blackwood, her sister and brother grew up wild, and often hungry on the Clanboyle estate in Northern Ireland. Blackwood was just thirteen when her father was killed in action during the Second World War. Blackwood always had an antagonistic relationship with her mother who frequently neglected her and her siblings.
Launched into London society in 1949, Blackwood met a young painter called Lucien Freud. A grandson of the famed German psychologist, Freud was already a noted artist when he and Blackwood abandoned London for Paris. This caused consternation amongst her acquaintances, one of whom, Evelyn Waugh, called Freud a T.Y. or "terrible Yid".
After her marriage to Freud, Blackwood became part of the Soho circle of young artists and poets, having dinner with Francis Bacon "nearly every night for more or less the whole of my marriage to Lucien". The marriage only lasted three years due to Freud's drinking and gambling habits and she later divorced him on the grounds of mental cruelty.
Unwilling to return home to Maureen, Blackwood went to Hollywood where she became involved with screenwriter Ivan Moffat, took a course of LSD therapy, lunched with Cary Grant and insulted Merle Oberon at one of her famed parties. Moving to New York, Blackwood met and married the gifted composer Israel Citkowitz in 1959. When that marriage ended she moved to London with her three daughters and, although still sharing a house with Citkowitz, became embroiled in a relationship with the (then married) poet, Robert Lowell who suffered from manic-depression.
The trauma occasioned by Lowell's abandonment of his wife and daughter for Blackwood inspired one of his greatest works, a book of poetry called 'The Dolphin' for which he won his second Pulitzer Prize in 1973. Married for seven tumultuous years, Lowell died in the back of a New York taxi in 1977 after fleeing Blackwood's house, clutching a portrait of his wife that had been painted by Freud.
Although Blackwood never again married, she had the ability to captivate men – and women – who gravitated to her in her later years, especially writers. Aged thirty-eight, she published her first book and was to publish a total of ten well-received works of fiction and non-fiction before her death on Valentine's Day in 1996.
Nancy Schoenberger has done a remarkable job of weaving the many varied threads of Caroline Blackwood's life into a compelling biography. Ranging from Northern Ireland to Paris, LA, New York and London, it is packed with fascinating characters, even the minor ones, including Brendan Behan, the actor Julian Sands (her son-in-law) and Marianne Faithfull.
Despite the wealth of biographical material available and the many people Schoenberger interviewed, the monstrous Blackwood stands centre-stage, still somehow unfathomable and unknowable. 'Dangerous Muse' is an absorbing portrait of a disturbed, yet compelling, woman who lived a life that would have killed many a lesser mortal.
July 2001