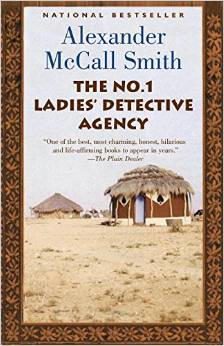 The No. 1 Ladies' Detective Agency
Fiction
Anchor
1998
235

Meeting: Tuesday 12th December 2004
Demian is the story of Emil Sinclair told in the first person. Emil comes from a religious (Christian) family and is essentially a good child. The novel opens with the awakening of Emil to life outside the bubble of childhood and family to individuality, good, evil and the grey area in between. This can be seen as a coming-of-age tale, a meditation on 'otherness' and the search for spiritual fulfilment.
The Demian of the title is a fellow student, Max Demian, a newcomer to Emil's school and a year older than him. It is not just Demian's newness but also his manners that mark him out as different and 'other'. Demian chooses Emil as a friend; thus electing him different also. This friendship leads to many conversations on religion, mysticism and the nature of otherness. Emil is guiltily drawn away from his family and into a mystic inner life led by Demian.
Demian is then lost from the story for several chapters through Emil's leaving for college. In college he marks himself out through sexual abstinence and carousing taverns, while also spending time in meditation in his room where images come to him of a woman, part masculine, part feminine, a figure head and reflection of Demian. Here he also makes a friend and new mentor in the form of a local organist who teaches him mystic readings.
In time he meets his old friend Demian again and is introduced to Demian's mother – the image of his meditations. He spends his days in agnostic discussion longing for Demian's mother until a foreboding event becomes clear – in the form of the First World War.
The story itself is burdened by mystic teachings followed and discussed by the characters, leaving the work too often a vehicle for Hesse's learnings and beliefs, making it very much of its time. This weakens the narrative to the detriment of the other themes – the nature of friendship and love, homosexuality, fulfilment, apocalypse and rebirth. Even discussions on religion and spiritual enlightenment become tedious when brought down to faddy ideas (though obviously outrageous at the time), never really dealing with the issue it raises: superiority of a chosen few.
The ending in particular did nothing to alleviate this, merely bringing in more mystic devices (the black mirror). This leaves the reader feeling that the character has journeyed only from dependent child to dependant adult, from a child's natural awakening to a young man who has read and moped a lot.
This is a read for the introspective adolescent. I would have loved it at sixteen when self-engrossed and marking myself out through fads of fashion , music and beliefs. Unfortunately I feel it has little to offer an older reader, it is neither a thoroughly engrossing reflection on coming-of-age nor a treatise on knowing oneself.
Ultimately readable but self-indulgent. 3/5
Score awarded by Bibliofemme: 1.9 out of 5
What the other Bibliofemmers had to say

"Spirituality, occultism, philosophy, psychoanalysis, the Oedipus complex – despite all that, this pretentious book STILL lacked a plot, convincing characters and any substance." 2/5
"Oh dear this book was painful, apart from the first ten pages. Just full of blah, blah, blah, blah. Avoid at all costs." 1/5
"I wish I had read this in my teens. It has dated enormously and struggles to say anything new or truly interesting to a twenty-first century reader." 2/5
"Narrative loosely weaved around a philosophical journey. Demian loses momentum after chapter one and never really finds it again until the last few pages". 2/5
"Demian, started out with a good account of a guilt ridden childhood but then veered off into something a bit more pretentious and disengaging. Pity really as I enjoyed the beginning." 2/5
"Poorly translated, this piece of self- indulgent kak attempts to pass itself off as a coming of age tale. Unless you have nothing else to hand but Now magazine to read, don't bother." 1/5