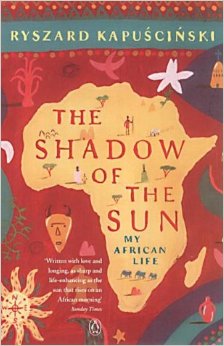 The Shadow of the Sun
Biography & Autobiography
Penguin UK
2002-03-28
336

Meeting: Friday 19th November 2004
I chose this book for two particular reasons. I liked the idea of reading a Polish author (the majority of our authors being, Irish, English or American) and the book itself was recommended to me.
The Shadow of the Sun is a hard book to categorise. It's not quite a biography and it isn't really a travel book, so the only way I can describe this book, and this is a very loose description, is as a memoir.
Ryszard Kapuscinski was sent to Africa to act as a war/news correspondent, initially at the end of the 1950s and the book seems to have been pulled together from a variety of notes he jotted down in a big pile of notebooks. Spanning forty years and nearly the entire continent, The Shadow of the Sun gives the reader an intimate glimpse of African life.
Kapuscinski has a wonderful way of writing and his observations of the African people, their way of life and what it is like to live and work in Africa are brilliant. His descriptions, particularly of the heat and what it is like to suffer from malaria are particularly vivid.
Reading this book you feel like you are embarking on a journey, a very educational journey. Although occasionally guilty of slight repetition Kapuscinski is a masterful storyteller. Highly recommended.
4/5
Score awarded by Bibliofemme: 3.6 out of 5
What the other femmes had to say

"Interesting from a historical point of view, but Kapuscinski's journalistic style obscured as much as it revealed and it irritated throughout. Not nearly as memorable as some of the memoirs we've read, this book didn't know what it wanted to be." 2/5
"A biography of a country through one man's travels. Historical and political facts combined with personal experience. Generates fluctuating engagement but with highlights that provoke reflection and fascination." 3/5
"This eye-opening account of life in Africa is driven by Kapuscinski's fascination for a land in which he will always be the outsider. The unbearable heat, the insects and the unforgiving land form a vibrant backdrop to real-life portraits of the people he met and the places he visited. Highly recommended." 4/5
"Kapuscinski's observations and knowledge of Africa's political history, people and cultures are delivered in travel journal style. Each chapter takes him on a different adventure. Although he loses a bit of momentum at various points in the book, there are wonderfully vivid and exciting moments. His effort to sleep, travel, and eat as a local gives an intimate first-hand flavour to his work. The Shadow of the Sun paints a rich visual portrait of the landscape, a harsh climate and an unforgiving sun. This is definitely worth a read." 3/5
"Delighted to have read this book and will share it with some worldly-wise friends. A great educational read about the people and history of the African nation. The see-saw between the political history and the anthropological accounts didn't bother me as much as some of the other readers. Definitely recommend this one." 4/5
"Although I did enjoy The Shadow of the Sun and Kapuscinski's unique worldview of Africa, I occasionally felt frustrated with the episodic nature of the book. I wanted the chapters to be longer, for Kapuscinski to go into each country in more depth. That said, this is a valuable read for anyone who has even a slight interest in the diversity of Africa and its fragmented history. 3/5
"Highly educational, enjoyable, and fascinating- this heartfelt yet non- biased book left me with an excellent understanding of Africa and it's wide spread diversity. It's loose structure is a flaw that's easily over looked, as I think there is something substantial for everyone here." 5/5