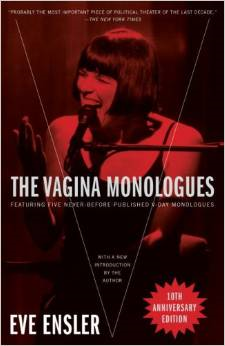 The Vagina Monologues
Biography
Villard Books
2007
222

Meeting: Thursday 7th August 2003
I chose this book because I had heard so much about the play from various different friends, I was disappointed that I missed it and thought; well I'll buy the book. The feedback I'd got in relation to the play included, "it made me laugh, and it made my cry". I also thought that Ensler had done something incredibly brave by writing the play and also what she had to endure to get the book published. As a group of young women I thought it would definitely evoke some interesting discussion.
The book though in my opinion came quite close to being great but just didn't make it. Unfortunately it reads more like a propaganda tool or a press release promoting the V-Day charity (very worthy!), but that's not what I expected and it was not what I wanted to read. The monologues themselves, when you eventually wade through the back patting section are well written and moving particularly "My Vagina My Village", but I was left feeling cheated and eager to read more.
In hindsight I really wish I'd seen the play.
2/5
Score awarded by Bibliofemme: 2 out of 5
What the other femmes had to say

"Provokes self exploration and creates a community of joy and sorrow amongst women." 3/5
"What began as an extremely personal journey for Ensler has outgrown its original purpose – the v-day charity is more than worthy but if you want to experience the original impact of this groundbreaking work catch a good stage production and skip the book." 3/5
"I really felt like I missed something, maybe I should see the play. Very disappointing piece of cliterature, it was all hype and very little content, but am glad it did spawn a worthy cause.." 1/5
"A worthy cause but already starting to date, I found it a little tedious to read – see the play (but only if the cast is good!)" 2/5
"The stories themselves tackle a credible topic in a short but lyrical manner. The book however comes across as a long press release for the V. day charity. A publishing fault which dragged down the score and enjoyment of what should have been a rousing book." 2/5
"Ensler's preachy tone was very exasperating and, at times, alienating. All monologue and not enough dialogue with the people that she interviewed. A disappointment." 1/5