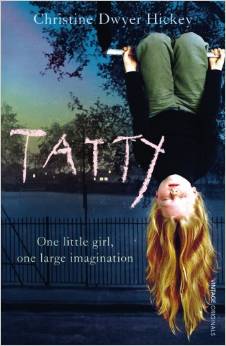 Tatty
Fiction, Irish
Vintage Books
2006
205

Meeting: Friday 26th March 2004
When I read the press release for Tatty I was intrigued. I had heard of Dwyer-Hickey before but had never read anything by her, so the following lines written by Colum McCann really grabbed me:
'A bare, lyrical story of a Dublin childhood that will rank among the very best of Irish books this year. It's not easy to make writing seem this simple. Like all good stories, it never judges itself, and so it remains open, charming, dignified, even when the subject matter drifts towards the harrowing. A really fine book, evocative of a not-so-distant past.'
Of course the fact that she's Irish and female was just an added bonus.
This is a very hard review to write as it is difficult to put in words exactly how Tatty can make you feel. I experienced a range of emotions while reading this book – the old phrase I laughed and I cried is really the only way to describe it – but I also smiled, frowned, grimaced, shook my head in disbelief: the list is endless.
Tatty tells the story of a young girl growing up in inner city Dublin, her alcoholic parents are at best indifferent, at worst suicidal and violent. Dwyer-Hickey uses language that is so simple it is genius. The story told through the eyes of an eight-year-old girl is completely believable and, by leaving more unsaid then said, Dwyer-Hickey evokes the imagination, allowing the reader to fill in the gaps.
Brilliantly written, Tatty is a harrowing yet somehow humorous tale. Go out and buy it.
4/5
Score awarded by Bibliofemme: 3.7 out of 5
"The strength of this book lies in the heartbreaking honesty of its child narrator's voice. Deceptively simple and impossible to put down." 4/5
"'A powerful, tragic tale of a disintegrating family that's sparse but very well-written. Tatty, the young narrator, is the female equivalent of Roddy Doyle's Paddy Clarke (but definitely without the Ha Ha Ha)." 3/5
"A power- house of a book, messages floated up between the lines as much as the words spoke for themselves, so much so that tears were shed more than once." 4/5
"An emotive journey into the mind of a little girl from a dsyfuctional family. Never maudlin or self-pitying but simply told and totally engaging." 4/5
"Beautifully written portrait of a dysfunctional Irish family. Witty and moving observations of complex social issues as seen through the eyes of a child. Very readable and highly recommended." 4/5
Despite the sometimes grim subject matter, Tatty is enjoyable, heartbreaking and intensely evocative of childhood. 3/5