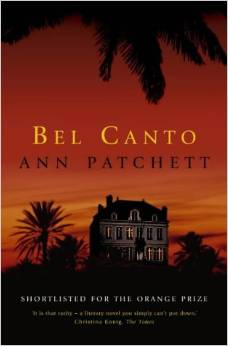 Bel Canto
Literature
HarperCollins Publishers
2002
318

Meeting: Sunday 27th April 2003
A spellbinding novel set in the sumptuous home of a humble vice-president of an un-named Latin American country.
The action begins, and just as quickly dissipates, when kidnappers burst into a party given in honour of a visiting Japanese businessman and would-be investor.
Amidst the andante that follows we watch the unlikely relationships that develop between the captors and their foreign hostages.
Central to the story is the beautiful opera star, Roxanne Coss, whose daily arias elevate the daily routine in captivity to something of a surreal siege.
Stimulating, sensuous and incredibly well written with both evocative and humorous moments. I cannot wait to see the movie, however, I do hope that this time they do change the ending.
4/5
Score awarded by Bibliofemme: 3.9 out of 5
Awards
Winner of the PEN/Faulkner Award
Winner of the Orange Prize
New York Times Bestseller
National Book Critics Circle Award Finalist
What the other femmes had to say

"Highly enjoyable read with a mixture of everything." 4/5
"A seductive read – once you suspend disbelief." 4/5
"Beautifully written, superb characters, excellent story-line. Loved it (despite the ending)." 4/5
"Well written and quite gripping, I did not want to put it down" 4/5
"A warm, sensuous book about the nature of communication and the things that bind our souls together. A wonderful read." 4/5
"A story of humanity and the innate connections between all people. A quiet read with a disappointing tied up conclusion." 3/5