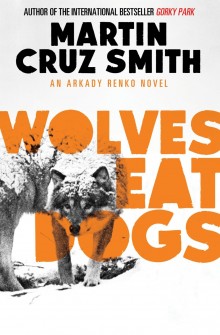 Wolves Eat Dogs
Fiction
Gallery Books
2006-01-03
352

There is something profoundly upsetting about reading about any worldwide disaster. The recent tsunami put our all too fragile lives into perspective, but that at least was a natural disaster. The nuclear accident at Chernobyl was a disaster of human making, therefore avoidable, and even more harrowing to read about.
Smith's fifth novel Wolves Eat Dogs portrays Chernobyl, twenty years after the disaster but still very much a no-man's land. Once again Smith features Renko, the broody Russian investigator whose character is nearly as complicated as the cases he investigates. When one of Russia's self-made billionaires, Pasha Ivanov, exits through a window of his Moscow condo, Renko, in typical Renko fashion, stubbornly refuses to call it a suicide. Then a senior vice president in Ivanov's company, Timofeyev, is found murdered near Chernobyl, and Renko finds himself assigned/exiled to the Zone of Exclusion, the 19-mile-radius radioactive area around the reactors.
Ivanov and Timofeyev were physicists before they became businessmen and their deaths seem to be some sort of retribution. Who administered the punishment though?
It's hard to imagine that people still carry on in this grim, contaminated territory, but they do; those who are too old or too damaged to abandon their homes, soldiers and policemen, scientists. It is a life measured by Geiger Counters, a life in which death is omnipresent and the work of a homicide detective seems almost beside the point. Smith visited the Zone while researching this book, and the details of Renko's investigations there are cruelly true to life: an abandoned school, the children's art still on the walls; a pine forest turned blood red, poisoned by the radiation; a death rate twice normal, a cancer rate 65 times normal. And, ironically, in the absence of human predators, a furious proliferation of birds and beasts. "The Zone," says an ecologist with whom Renko tours the area, "is the best wild-animal refuge in Europe. Normal human activity is worse for nature than the greatest nuclear accident in history."
Wolves in particular are flourishing in the area, Wolves eat dogs is the explanation as to why no-one owns a dog anymore in Chernobyl. "Wolves hate dogs," Yenko, a local, explains, "wolves hunt down dogs because they regard them as traitors. Dogs are only dogs because of humans, otherwise they'd all be wolves, right?"
Smith wrote this book because he felt it was important that people be reminded of the consequences of mishandled nuclear power. The sense of place evoked in the book – Chernobyl actually becoming a character in the story – somehow excuses the less than spectacular plot. Not a gripping read, but somehow an important, worthwhile one.
March 2005