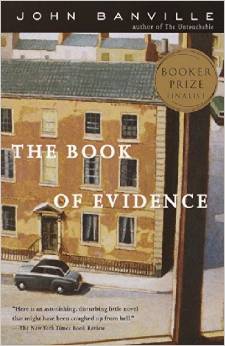 The Book of Evidence
Detective and mystery stories
Pan Macmillan
1998
219

While many book lovers know who John Banville is, quite a lot haven't read any of his work. The reasons are possibly that Banville has a weighty literary rep that inspires awe and fear in equal measures. My first introduction to him is The Book of Evidence and based on this, his back catalogue beckons.
For a writer of literary fiction, it's quite an unconventional story, based partly on a real story and is wholly a thriller. Freddie Montgomery has committed a heinous, but clumsily planned, crime and the story is told via his deposition in court. Banville has is a lover of language, forcing the reader to contextualise words or get out the dictionary. For all his wordiness, he can also be a master of compression. In the opening page-and-a-half, he sets the scene but is brilliantly expansive. And yet, 70+ pages in, we still don't know what Freddie's crime is.
Freddie Montgomery is typical Banville male – aging, dogged by self-loathing, fond of drinking, unfulfilled, and to varying degrees, caddish. Banville's male protagonists are also men with a certain haughtiness, who believe the world owes them something. His characters are neither moral nor amoral, but for all their spiritual ugliness, the reader can't help being taken with them. It's no coincidence that Freddie's closest literary doppelganger is John Self, the wretched figure in Money by Martin Amis, a writer comparable to Banville in many ways.
Right from the start of his story, Freddie's wry humour and arrogance is apparent, but still we can't help liking him. When he botches the robbery and unwittingly murders a maid, we still empathise with him, despite how pathetic he is and the wrong that he has done. The story is partially based on the Malcolm MacArthur case, who murdered nurse Bridie Gargan in the Phoenix Park in 1982 which prompted the famous 'GUBU ("Grotesque, Unbelievable, Bizarre and Unprecented" response from Charles Haughey.)
Freddie also has much in common with Max, the protagonist in his new book The Sea. Through them Banville continues his exploration of words and what they can and can't achieve. While Max intones, "how imprecise language is, how inadequate to its occasions", Freddie echoes this with "Words so rarely mean what they mean". This constant motif of meaning and the search for meaning, runs through the book and language is used as a tool to tease it out. For all Banville's seriousness, he is not averse to humour and there are some seriously funny moments in the book and I've never read a more ornate description of vomiting as:
"The next thing I recall is being on my knees in the lavatory, puking up a ferruginous torrent of wine mixed with fibrous strands of meat and bits of carrot. The look of this stuff gushing out filled me with wonder, as if it were not vomit, but something rich and strange, a dark stream of ore from the deep mine of my innards."
Reading that description, it's unsurprising that John Banville gets compared to Joyce and Beckett. Freddie speaks of being a "paltry shivering thing" recalling Yeats' "tattered coat upon a stick" and mortality and aging is a topic Banville has examined in a number of his books. In capturing the vitality of the body, corporeal metaphors abound in his work. There is a charged, erotic description of sex, one of the best I've ever read, and Banville is a genius at descriptive turn of phrase. On returning to see his mother, who irritates him, he refers to resentment that usually rises up in his chest as "filial heartburn".
This short book is a riveting, brilliantly told tale of one man's downfall. The language is a joy to read, the characterisation perfection. If you've been faint-hearted before, sample John Banville via The Book of Evidence – it's the reason he's one of Ireland's greatest writers. 
June 2005