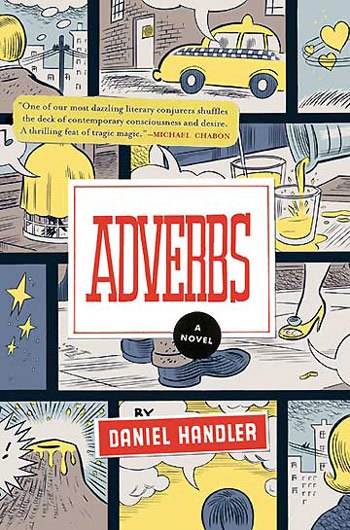 Adverbs
Fiction
Harper Collins
2009-10-06
288

Meeting: 22nd August 2007
I didn't realise it was my turn to pick the book this month until the Connoisseur sent out a reminder email the week of bookclub. So in a panic I asked a girl in work for a recommendation, knowing that she is a complete 'bookhead'.
Her first suggestion she described as a book that would change your life, however it was quite bleak and lacking in punctuation which I thought the Techie might kill me over. Her second suggestion was Adverbs, she described it as a collection of short stories, but not and that the author makes her despair of ever becoming a writer due to his 'linguistic acrobatics'. Also it is all about love – and in my mind a perfect choice – thanks Gemma!
A review will be posted here shortly.
This month's book was picked by The Dancer 
Score awarded by Bibliofemme: 2.4 out of 5
What the other femmes had to say
"Handler's wayward, whimsical and annoyingly self-indulgent style, does somehow add up to more than the sum of its parts; but although his moments of occasional brilliance are certainly brilliant, there were not enough of them to sustain my solid interest throughout." 3/5
"Treat this book like a series of short stories rather than a novel and you will have less of a bumpy ride than I did. I loved Handler's playful way with words, it was like watching little words on swings and see-saws. However, not knowing if I was missing a connection betweend the same names turning up in different stories, left me a little frustrated. Eventually I just gave up and went with it and some of his stories were true gems, especially the one about the terminally ill girl and her best mate escaping a hospital on Superbowl Sunday to go drinking in bar a town in Washington State, called Point No Point. This stuck with all of us in the group. Great book, but I don't know if I could recommend it to many." 3/5
"This book frustrated me from start to finish. The characters were one dimensional the stories were boring and the overall 'cleverness' of the book managed to put do nothing but drive me insane – can't recommend it for anything other than lining your bin." 1/5
"What an absolutely brilliant book! I loved it – as postmodern and self-referential as any novel and wonderfully interactive – at one stage I found myself wanting to write stuff down and refer back to previous chapters. This can be read as a bundle of short stories or one novel…either way it's a classic – I haven't had as much fun nor been challenged as much by any book in a long time – each layer I peeled away I found something else exciting and interesting underneath. Very clever and well thought out."5/5