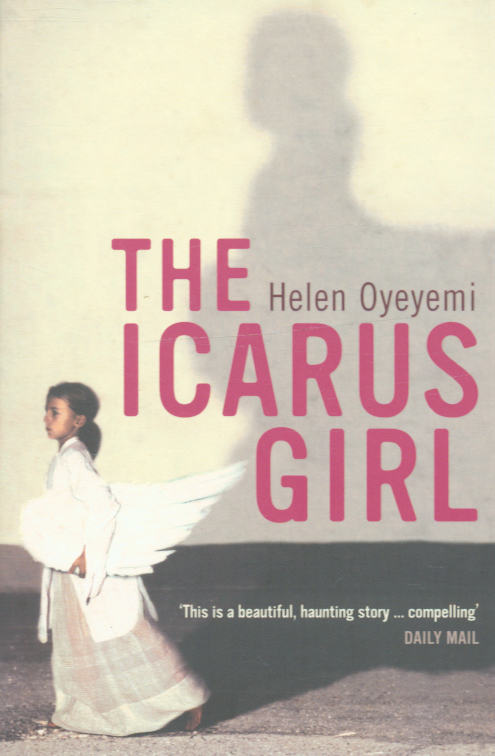 The Icarus Girl
Fiction
Anchor
2006
337

Jessamy "Jess" Harrison, a racially-mixed child, is growing up feeling that she is caught between two different worlds, until she is sent to visit relatives in Nigeria, where she comes face to face with a mysterious new friend.
Meeting: 6th May 2006
 Without much time to look for this month's bookclub book, I was relying on the Irish Times Saturday reviews of paperbacks. First I nearly picked Orhan Pamuk's Istanbul but, the morning of the bookclub – while feeding the baby on the couch and reading a four-day-old newspaper – I changed my mind. This book, The Icarus Girl, is set in Nigeria and was written by Helen Oyeyemi in England while she was studying for her O-Levels. I hope you all enjoy it!
Synopsis
'Stop looking to belong, half-and-half child. Stop. There is nothing, there is only me, and I have caught you.' Jessamy Harrison is eight years old. Sensitive, whimsical, possessed of an extraordinary and powerful imagination, she spends hours writing haikus, reading Shakespeare, or simply hiding in the dark warmth of the airing cupboard. Sometimes, when the world becomes too much for her, she can only scream and scream. Her South London schoolmates are wary of her precocious intelligence, and as the half-and-half child of English and Nigerian parents she doesn't belong.
Taken to her mother's family compound in Nigeria for the first time, she meets her uncles and aunts and cousins – and her formidable old grandfather. Then one day, in the deserted servants' home, she encounters Titiola, a ragged little girl her own age. At last she has found a friend, someone she can play with, who understands her. But what is it that sly, capricious TillyTilly is seeking in return? What is the secret that TillyTilly is hiding from her? And why can no-one else see her new friend? As the bond between the two girls grows, Jess watches powerless as those around her begin to get hurt, and she begins to wonder if TillyTilly is as harmless as she looks. Lyrical, poetic and compelling, The Icarus Girl is a novel of twins, doubles and ghosts, of a little girl growing up between cultures and colours. It heralds the arrival of a remarkable new talent.
A review will be posted here shortly.
This month's book was picked by The Connoisseur 
Score awarded by Bibliofemme: 3 out of 5
What the other femmes had to say

"Although I didn't find Jessamy a very believable eight-year-old, The Icarus Girl really managed to get under my skin. Looking forward to seeing what Helen Oyeyemi does next." 3/5
"This tedious book left me with more loose ends than a basket case could deal with. My disappointment had to be completly re-evalutated when I dicovered that the book was written when she was only 17 Some genuinely creepy imagery in here too… might recommend it to a mature teenager. " 3/5