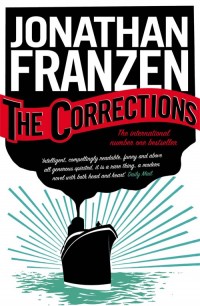 The Corrections
Avarice
HarperCollins UK
2007
653

Meeting: 24th November 2007
I initially set out to find a book that would have us sitting around discussing what life is all about. After some Internet searching, I asked the advice of two of my closest friends, who as luck would have it, are also English graduates. After perusing the reviews of several of their recommendations, I decided Jonathan Franzen, The Corrections, should provide us with some compelling material for my hoped for discussion.
Synopsis
The winner of the National Book Award, the New York Times No.1 Bestseller and the worldwide literary sensation, 'The Corrections' has established itself as a truly great American novel. The Lamberts — Enid and Alfred and their three grown-up children — are a troubled family living in a troubled age. Alfred is ill and as his condition worsens the whole family must face the failures, secrets and long-buried hurts that haunt them if they are to make the corrections that each desperately needs. Stretching from the Midwest in the mid-century to Wall Street and Eastern Europe in the age of globalised greed, The Corrections brings an old-time America of freight trains and civic duty into wild collision with the era of home surveillance, hands-off parenting, do-it-yourself mental healthcare, and New Economy millionaires. It confirms Jonathan Franzen's position as one of the most brilliant interpreters of American society and the American soul currently at work.
A review will be posted here shortly.
This month's book was picked by The Singer