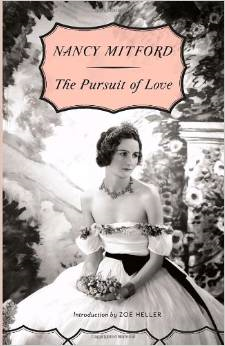 The Pursuit of Love
Historical Fiction
Vintage Books USA
1945
214

Meeting: Thursday 26th February 2004
I've long been interested in the Mitford sisters, although have been known to mix them up with the Langhorne sisters on occasion (James Fox's book on that quintet of Virginians who cut a swathe through pre-WWI Anglo-American society is also worth checking out). Nancy, Pamela, Diana, Unity, Decca and Debo Mitford came of age in England during the decadent age of Evelyn Waugh's Bright Young Things (several of his books were dedicated to Diana and her then husband Bryan Guinness) and were known as the "mad, mad Mitfords". These talented and well-connected girls mixed with Hitler, Mussolini, Winston Churchill and George Bernard Shaw and frequently scandalised polite British society during the Thirties and Forties. Despite the fact that the sisters were mainly taught at home, four of the sisters went on to become best-selling authors, Nancy becoming best known for her semi-autobiographical novels The Pursuit of Love and its sequel, Love in a Cold Climate.
Set amongst the English upper class during the first half of the century, The Pursuit of Love is narrated by Fanny Logan, whose mother (The Bolter) and father have let her to be brought up by an aunt. She spends much of her time with her cousins, the Radletts of Alconleigh, all of who are modelled on Mitford's own eccentric family. One of the best characters is bad-tempered patriarch Uncle Matthew, who hunts his children with bloodhounds and is inclined to violent, but comical, rages.
Impetuous cousin Linda (based on Nancy herself and several of her sisters) and her pursuit of love is at the centre of the story – to the extent that Fanny's own life is nothing but a side-show to the main event. Linda first marries a pompous dull banker (his parents' visit to Alconleigh is a wonderful set piece), leaving him for an ardent but impoverished Communist and eventually falling in love with Fabrice, a French aristocrat as war breaks out in Europe.
The Pursuit of Love is witty, clever and laugh-out-loud (hence lots of strange looks on the Dart) funny. Although it can be enjoyed for what it is – a frothy, well written book – I loved the fact that many of the characters were based on real people. Mitford's descriptions of childhood are also brilliant, particularly the child hunts and Jassy's running away fund.
Although the pace lags somewhat towards the middle of the book and there's a rather abrupt ending, The Pursuit of Love is an unmistakably old-fashioned treat and this snapshot of a bygone age will be particularly enjoyed by anyone with an interest in history or family dynamics. Nancy Mitford was undoubtedly the twentieth century heir to Jane Austen's crown – her Fanny also bears similarities to Austen's Mansfield Park narrator.
As for me, it has only piqued my interest for all things Mitford. I'm moving on to Love in a Cold Climate next, just as soon as I've finished The Mitford Sisters biography….
4/5
Score awarded by Bibliofemme: 3.3 out of 5
What the other Femmes had to say

"Reading this was like having a good fling: it had its merits, it was fun while it lasted but in the end it was a rather flimsy experience." 2/5
"A fabulous journey through aristocratic, eccentric upper class England." 5/5
"The original (and better) Ya-Yas. A frivolous, funny read." 3/5
"Laughter and love – lost and found, something light and fun to recommend." 4/5
"Not just a jolly good romp but also a reflection on that which consumes the majority of mankind – the search for a complete and passionate love." 3/5
"A flighty account of a self obsessed woman on the search for 'perfect love'. Reminiscent of Jane Austen, but nowhere near the same standard." 2/5
Also by Nancy Mitford
Love in a Cold Climate