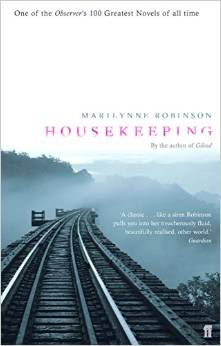 Housekeeping
Aunts
2005
219

I was fortunate enough to read Gilead by Marilynne Robinson this year. Blown away by her brilliance, I then set out to read Housekeeping – the only other work of fiction Robinson has written.
Housekeeping is the story of Ruth and her younger sister, Lucille, who grow up haphazardly. First they are under the care of their competent grandmother, then of two comically bumbling great-aunts, and finally of Sylvie, their eccentric and remote aunt. The family house is in the small Far West town of Fingerbone set on a glacial lake, the same lake where their grandfather died in a spectacular train wreck, and their mother drove off a cliff to her death. It is a town "chastened by an outsized landscape and extravagant weather, and chastened again by an awareness that the whole of human history had occurred elsewhere."
Lucille struggles to be accepted by a town that will never forget her background, while Ruth merely struggles to get through the day. As the girls grow older they realise that the eccentricities of their aunt Lucille are not normal. The fear that encompassed them as children – that she too would disappear from their lives – is now taken over by a fear that the town will discover how bizarrely they live.
Robinson is a beautiful writer. Her descriptions of the lake and the surrounding town, and her ability to express her characters' emotions, are breathtaking. It is no wonder that having written this classic, Robinson needed fourteen years before she could write Gilead.
September 2005