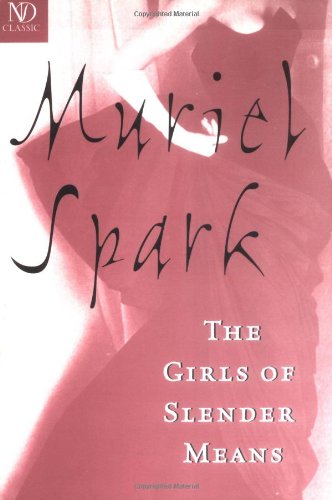 The Girls of Slender Means
Fiction
New Directions Publishing
1963
176

Meeting Date: 24th July 2014
Our big reunion was finally scheduled, and Cristín (aka The Writer) was tasked with choosing the book:
"Long ago in 1945 all the nice people in England were poor, allowing for exceptions," begins The Girls of Slender Means, Dame Muriel Spark's tragic and rapier-witted portrait of a London ladies' hostel just emerging from the shadow of World War II.
Like the May of Teck Club itself—"three times window shattered since 1940 but never directly hit"—its lady inhabitants do their best to act as if the world were back to normal: practicing elocution, and jostling over suitors and a single Schiaparelli gown. The novel's harrowing ending reveals that the girls' giddy literary and amorous peregrinations are hiding some tragically painful war wounds.