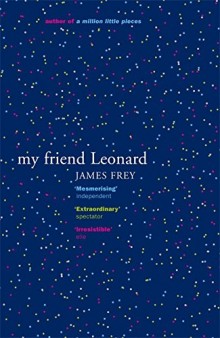 My Friend Leonard
Biography
John Murray Publishers
2005
400

James Frey brings us into his world again with his autobiographical sequel My Friend Leonard. After the very compelling A Million Little Pieces the author might have had a challenging time living up to his own self-created standard.
As outlined in my previous review, A Million Little Pieces divulges all of his fears, strengths and weaknesses in a rarely found, candid and personal profile of recovery from drug and alcohol abuse. That book finishes as James Frey leaves rehab and starts on his new life.
After being so close to his difficult recovery, I have to say I was delighted to stumble across an unexpected sequel, as this author and his struggles have never left my mind. Having been in close contact with people with similar level of dependencies, I felt a certain personal investment into this author's outcome. I found myself hoping that this stranger would overpower his daily challenges and persevere from the depths of temptation.
Although Frey does keep on the straight and narrow, I was left feeling that he was less giving with his deepest feelings, thus the second book loses some of that original voice that I found so fascinating and brave the first time around. His stripped-down repetitive style of writing was excusable, even original when he was divulging his heart; however, the style become far less interesting when repetitively describing food, pets or new girlfriends.
I asked myself if the change in voice came from the author's surroundings: the false 'nicey-nicey' LA or just the natural barriers that one naturally discovers when reintegrating fully into society and dealing with sober life. Frey still pours out his heart and soul in many passages, but there are places he dwells on for too long and others I find he has chosen to brush over. Although the honesty isn't as frequent as I would have liked, I found that there was still enough interesting events and laughs in the book to keep me going.
Although this book lacks the consistency of sharing of the first book, I can easily say that pats on backs can accompany any criticisms. The main thread in the book, Frey's friend Leonard, as per its title, is the source of much entertainment. He is potentially Frey's biggest support through his reintegration. Without giving too much away, there is enough humour as well as bizarre and unexpected twists to keep any reader turning. While the first book was the utterly amazing raw, intense confessions of a recovering mind/body/soul, this book is more of an homage to a great friend and support.
Both are recommended.
November 2005