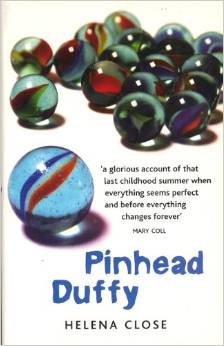 Pinhead Duffy
Fiction
Blackstaff Press
2005
250

Set in 1970s Limerick, Pinhead Duffy tells the story of four young men at a turning point in their lives. It is the last summer between primary and secondary school and the four boys – Sean, Dodge, Eyebrows and Pinhead – are looking forward to a good one.
At thirteen they are beginning to notice girls and Pinhead, the leader of their gang, has big plans for a fun-filled summer but none of them could possible predict the events that do occur. Like all teenage boys they are contemptuous of girls, unless they have big tits, Garryoweners because they're 'steamers' and all authority figures.
Using Sean as her narrator, Helena Close perfectly captures the lives of the four teenagers. In Pinhead Duffy she addresses all the things that drive teenage boys crazy – the embarrassment of your mother being pregnant, as that shows your friends that they're still doing 'it'; the realization that girls are not only there to be sneered at, but maybe to be kissed; the inevitable growing up; family issues that your friends suffer from; alcoholism; physical abuse and death.
As the summer goes on tension erupts between the four boys. Paranoia, jealousy and revenge all take their toll and, by the end of the summer, Sean, Dodge, Pinhead and Eyebrows have changed and nothing will ever be the same again.
Helena Close has co-written two previous books but this is her first venture as a solo author. Her writing style is not dissimilar to that of Roddy Doyle, which in itself is high praise indeed. Remember her name. She is one to watch out for.
April 2005