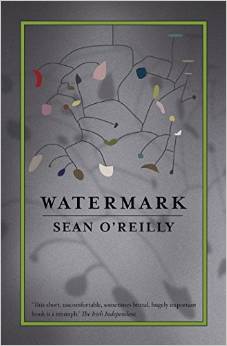 Watermark
General Fiction, Irish

Sean O'Reilly's last novel, The Swing of Things, focuses on two men who are barely managing to keep their heads above the rising tide of Dublin's darker side. Suspended in a sort of self-destructive bubble, they seem resolved to wander in an existential fug, trying to discover where they should go in life.
In his new novel, Watermark, O'Reilly has ditched the male perspectives and shows us the world through the eyes of a similarly disaffected character, Veronica. She has no surname, occupation, or background. All we know of her is that her relationship with a man called Martin has ended, possibly because of an encounter with his best friend Donal. She is an attractive woman; forward, promiscuous even, and at the start of the book, her sexual misjudgements seem to be something she is in control of. As the narrative progresses, it becomes more apparent that Veronica is something of a victim, not a victor.
She constantly recounts, imaginary or otherwise, predatory encounters with older men, a sexual tryst with a woman who was involved with a man she has slept with, seducing a young boy, and violent sex with Donal. While this is certainly a book about fantasy, it isn't about Veronica's fantasy. This is very much male fantasy hollowly transposed on to a female character, making her seem a victim, not a fantasist.
In a recent entry on the Sigla blog about Tom Cruise, there was a link to an article by literary theorist Slavoj Zizek, which takes a Lacanian view of Stanley Kubrick's film Eyes Wide Shut. In it, he concludes that Lacan's views that only men can fully desire can be looked at in the context that only "a woman can fully fantasise, while a man is condemned to the ultimately futile 'fantasising about fantasy"'. This is exactly what O'Reilly does with Veronica's character, and is the main reason the book doesn't work.
The question I kept asking myself was, if this had to be a book about a weak sexual fantasist, and about predictable gender stereotyping, why isn't the main character a man? The book would have been far better for it – mainly because Veronica is entirely unconvincing as there is no authenticity to her voice.
The story unfurls at a painstakingly slow pace, which initially gives the reader time to get their head around O'Reilly's language. Initially the lack of capitalization and commas is irritating but it actually suits the style of delivery. The writing has a very poetic flow to it and the author's approach to language and the word on the page is original and quite experimental. A sense of existentialism overshadows the book, as not very much happens and by the end as Veronica's life continues to spiral out of control, I cared less and less about what happened to her.
O'Reilly has the linguistic sensibility of a poet but the narrative and characterization might remind too many people of Michel Houellebecq.
August 2005