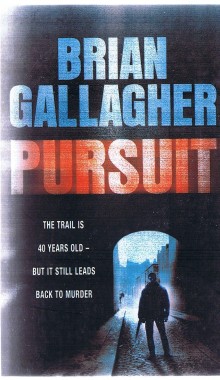 Pursuit
Thriller
Poolbeg Press
Jan 1 2004
593

Former Irish solder Conn Lynch made a deathbed confession and when journalist Laura Kennedy heard about it, her investigative instincts kicked in. Convinced that there is a story hidden somewhere within Conn's life, Laura is determined to uncover it.
Steve Johnson, millionaire and new owner of the newspaper where Laura works, decides to help her in the investigation.
Daniel Trenet, former mercenary and now a successful businessman, will stop at nothing to keep Conn confession hidden. Willing to resort to any means necessary to stop Laura from uncovering his secret, Daniel hires a ruthless killer to follow the journalist and her American friend.
While Laura and Steve follow a trail that sends them across Europe, time is running out as Daniel and his killer get closer and closer.
Pursuit is an action-packed thriller that keeps you turning the pages.
October 2004