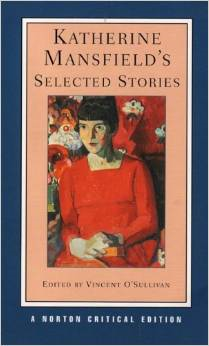 Katherine Mansfield's Selected Stories
Fiction
W. W. Norton
2006
430

Meeting: Friday 22nd April 2005
When one of my favourite writers, Virginia Woolf said: "I was jealous of her writing. The only writing I have ever been jealous of", I couldn't help my curiosity about Katherine Mansfield. She has long occupied a place on my 'to read' list and her weighty reputation rests on her short stories. She never wrote a novel in her short life and I thought she might be an interesting bookclub choice for a few reasons. To date, we've never chosen a book of short stories and I was interested in the idea of reading lots of stories, written at different points in a writer's life. In a way, it's a sort of holistic approach to one author so I chose Selected Stories and we pulled 15 out of a lucky bag to read and ponder.
The merit in Mansfield's writing is not found in trawling through what happens in individual stories, but in collectively assessing the themes. Despite the brevity of the stories themselves, the impact for me was huge. For no particular reason, I started with 'Bliss' and I don't think I'll ever forget it. Immediately the Woolf resonance struck me as it does in 'Sun and Moon' as both reminded me of Mrs. Dalloway. There is a peripheral approach to the way both writers speak to the reader. Although the characters behave in a straightforward manner, the real issues take place on the outskirts of the story, and as a reader, we see it out of the corner of our eye.
Mansfield has a unique ability to arrest the reader and it's rare to read a short story that you immediately want to reread upon finishing it. In 'A Married Man's Story' and 'The Wind Blows', Mansfield supplies the basic outline and we are given a very wide berth of interpretation. In constantly using this open-ended, ambiguous technique, Mansfield engages the reader in a deliberate game of interactivity.
While Woolf's feminism (in her novels anyway) was subtly interlarded with other themes, Mansfield is more pronounced in her handling of it. In 'Frau Brechenmacher Attends A Wedding', an unhappy wife hemmed into a mundane, thankless existence attends a wedding and instead of joy, finds only more reinforcement of her own unhappiness. Frau Brechenmacher pities the bride "in a white dress trimmed with stripes and bows of coloured ribbon, giving her the appearance of an iced cake all ready to be cut and served in neat little pieces to the bridegroom". Mansfield's probing of "women's self-fashioned chains of slavery" echoes Woolf's view that a woman, in order to write, (where writing is a metaphor for personal freedom), "needs a room of [one's] own and one hundred pounds a year". The theme of domesticity as paralysis is recurrent and in 'At The Bay' a male characters thinks there's something amiss with Beryl just because she forgets to put sugar in his tea. In 'Prelude', the same Beryl is adamant that she will never be "content to sit in the sun and shell peas" like her mother and yet as the story closes, we are left with a portrait of her as the miserable, unmarried aunt. Many of Mansfield's characters, regardless of gender, exist in a bubble of longing. Personal loneliness and discontent are never far away while philosophically, the sheer emptiness of existence is consistently addressed. Laura tries to find meaning in it all at the end of 'The Garden Party', stammering, "Isn't life… Isn't life…" but she can't finish the sentence. In keeping with the proprietary patriarchy of the day, her brother Laurie assumes that he understands her meaning and claims the sentence, finishing it for her.
The writing occupies the same realm of modernism as William Faulkner, DH Lawrence, Joyce and of course, Woolf. Where it's most apparent is in language and form. Words are repeated, phrases reappear and the same characters feature in several stories. Such is the intensity of her writing there is no room for flippancy with words that aren't needed. Mansfield experiments with form and ends her stories in the strangest places, as in 'Millie' and 'The Wind Blows'. This extends to the story titles, which often have little to do with what happens, leading to a kind of narrative ventriloquism meant to point the reader in another direction. In 'The Garden Party', the actual party is never described. The heart of the story is about death as a leveller with the garden as a metaphor for heaven.
Class is another staple theme from a narrow escape from a snobbish ex-lover in 'A Dill Pickle' to the cruel treatment of the poor Kelvey children in 'The Doll's House'. They may be lower class but they have an unspoken, unuttered bond and "never failed to understand each other" in a way the upper class Burnell children don't. Mansfield's only brother, who she was incredibly close to, was killed in the First World War, leaving her heartbroken. This key relationship may explain the constant examination of sibling relationships in her writing. She brilliantly captures children and her most vivid characters – from the overlooked, jealous sibling in 'Sun and Moon' to the sensitive Laura in 'The Garden Party' – are kids.
When I picked these stories, I said that I wanted the discussion to move away, as with the novel, from the focus of the plot. They did just that and we explored themes, characterisation and language in a way I don't think we have done before in the bookclub. In 'Psychology', a character asks. "How sure are you that psychology quo psychology has got anything to do with literature at all?" These stories delve into the deepest and saddest parts of the human psyche and it is only because of Mansfield's subtlety that they don't become polemical or preachy. I'll definitely read the rest of this book, because along with Flannery O'Connor, Mansfield is one of the best short story writers you could ever hope to read.
4/5
Score awarded by Bibliofemme: 3.7 out of 5
What the other femmes had to say

"Mansfield s writing is so rich and intense it seems to hover at a constant peak of brilliance. I particularly love her portrayal of the inner life of children. This will become a bedside staple." 4/5
"I am not a fan of shortstories and despite The DJ and Katherine Mansfield's efforts I am still not. However I am not so blind as to recognise that Mansfield was an extraordinarily talented woman, this book was not for me, but many will enjoy it." 2/5
"Katherine Mansfield's stories are emotive and rich. She's a powerful storyteller and literary treasure. Her observations of class and family life are remarkable. My favourite story would have to be The Garden Party." 4/5
"Ethereal, elegant, charming, witty and insightful." 5/5
"These short stories have more emotion, meaning, and interesting/vivid characters than some of the longer novels
being put out today. Very refreshing read and surprises in every story. I particularly liked her childhood and humanitarian themes, which left me with heaps of food for thought." 4/5
Bibliofemme Reviews:
To The Lighthouse by Virginia Woolf
The Sound and The Fury by William Faulkner