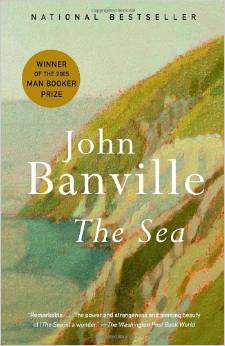 The Sea
Fiction
Vintage
2006
195

One of the first things that strikes the reader upon starting The Sea is the sense of familiarity on encountering its protagonist Max Morden. John Banville's characters are certainly distinct from one another but occupy the same Venn diagram of self-satisfied, unfulfilled smugness as each other. Their morality is in a constant state of dishabille, but despite their flaws, they have an unerring desire to rage against the dying of the light. Even when all seems lost or the game is up for Freddie Montgomery in The Book of Evidence, they do not give up. In The Sea, however, Max seems to have done precisely that. The question the book hints at is if this is due to the onset of old age or the fact that he was hugely affected by a childhood tragedy.
Almost 50 years earlier, an idyllic littoral summer transforms into a nightmare with one unexpected act of defiance. His family own a small seaside hut and Max befriends the more affluent Grace family twins, Chloe and Myles, who are the same age as him. The book shifts between tracing the events of that summer, Max's later life when his wife is dying of cancer, and him living in a guesthouse-cum-nursing home in the same resort years later. Max observes at one point:
"That is why the past is such a retreat for me, I go there eagerly, rubbing my hands and shaking off the cold present and the colder future. And yet, what existence, really, does it have, the past? After all, it is only what the present was, once, the present that is gone, no more than that."
This reveals his own internal struggle to live in the now, let alone look to the future and his daughter chides him about living "in the past". Through his preoccupation with what has gone before – and not just one pivotal event – his relationships with his wife and daughter have been sidelined by his memories. Max is occasionally pragmatic about it, admitting at one point, "yes, things endure, while the living lapse". For him, memory has been steadfast to the detriment of his own ability to get on with life.
Throughout, Banville's language has never been more impressive. Sure, there are plenty of words most of us never use, but there is a luminous clarity to his writing. Max ponders on "how impressive language is" and in the past the young Myles, for no physical reason, will not utter a word. In later life when Max is struggling with his work on a biography of Pierre Bonnard, he tells us that his typewriter is missing the letter 'I'. The absence of the word for the self captures Max's lack of identity. In a pseudo-Marxist passage, he also asks: "Are not the majority of men disappointed with their lot, languishing in quiet desperation in their chains?" and this may represent a general feeling of insecurity when faced with the inescapable onward roll of time.
Banville himself turns 60 later this year, and one can't help but think that his own mortality is seeping in to his writing. The biggest contrast in the book is that between the possibility of youth (even in tragedy) and the stagnation of old age. The impending doom of aging is heartfelt in a Yeatsian way. Max is consistently weary and like many Banville males, uses drinking as a way to deaden his senses. The book is filled with existential ideas about identity and Max confesses "From earliest days I wanted to be someone else" and suffers "the burden of being the people that everyone told us we were". This philosophical self-exploration is constantly re-routed to the past as when he asks, "Who, if not myself was I?" and notably doesn't use the present tense.
Max is a typical Banville character, never happy with the present situation and constantly yearning to be elsewhere. For Max, it's not a tangible place; it's the past and he is immured there. Where he differs from past protagonists is that in spite of his misery, he is still the most humane and as a result, the book is one of Banville's most emotional ones. What also separates this book from much of his past work, are the female characters. In many of his novels, they are relegated to the periphery early on and we never fully get a sense of them. Here, Chloe, Anna, Mrs Grace, Rose the nanny and even his daughter who appears only briefly are the strong female characters that have been lacking in his books.
Writers aspire to illuminate things for the reader and The Sea is full of philosophical epiphanies, even if all they reveal is that life is meaningless. On the last page, Max leaves the hospital after Anna has died and it's early morning. He tries to explain that he feels "as if… I was lifted briefly and carried a little way toward the shore and then was set down on my feet… as if nothing had happened, a momentous nothing, just another of the great world's shrugs of indifference".
Banville's writing has always had an effortless concinnity to it, but never more so than with this haunting book.
July 2005