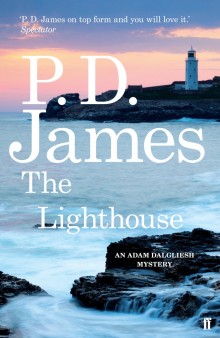 The Lighthouse
Thriller
Vintage Books
Oct 1 2006
383

I am somewhat surprised that I have managed to get this far in life without ever having picked up a PD James novel. As a huge fan of crime fiction, it seems incredible that The Lighthouse is the first of Ms James' books to end up in my 'must read' pile.
James' main protagonist is Adam Dalgliesh who, I am reliably informed, features in many PD James novels. Dalgliesh and his team are summoned to a small island off the Cornwall coast where a murder has taken place. The island is a sanctuary for over-stressed men and women in positions of high authority who require privacy and guaranteed security.
Due to the level of secrecy attached to the island and its guests, Dalgliesh is allowed minimal assistance in investigating the crime, not least no access to the CSI (crime scene investigation) unit who usually solve murders through forensic science. Dalgliesh's brief is simple – solve the crime quickly and then leave the VIP guests in peace.
Setting a crime novel on an island is always an inspired decision. This leaves the reader with a very definite, limited team of suspects and also, for some reason, allows us believe that maybe we can figure this one out. James has evoked a wonderful sense of place in this novel. Although she claims the island is entirely fictional, I find it hard to believe that any writer could describe a place of fiction so eloquently.
The lack of science in the novel was a refreshing change as was the lack of blood and guts which seem to dominate so many modern crime fiction books. Although James seems to run out of steam towards the end – perhaps due to the fact that she is now 85 – and the fact that my cynical brain was disinclined to believe how the crime was solved, this book was a refreshing read.
James is undoubtedly a highly talented writer whose style I would liken to Agatha Christie. I will definitely be exploring her talent further.
November 2005