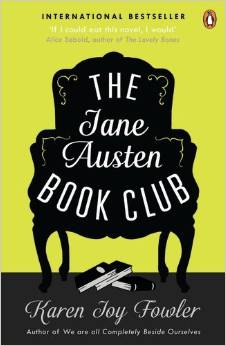 The Jane Austen Book Club
General Fiction
2004
288

This delicious book is a witty comedy of contemporary manners, as well as a charming homage to the art of novel-writing. Brought together by a shared love of Jane Austen, five women and one man meet monthly to discuss her six novels. As the six characters go in search of the author – each has their own "private Austen" – they begin to explore their own emotional lives just as much as those of Austen's characters.
Wonderfully structured, the novel springs along at a jaunty pace, and we quickly learn to care about each member of the cast as they go about the ordinary business of falling in and out of love, caring for their families and friends, and reading novels.
The book works on a number of levels. While we are quickly sucked in to each character's individual story (indeed, each bookclub member could be the hero of their own novel), we are continually reminded of the fact that we are engaged in the process of reading a book. For example, while considering Austen's characters, one bookclub member wonders, if she were a character in a novel, what kind of character she would be. This post-modern device could have turned out a dry, aren't-I-clever construct, were it not for the joy of getting to know the deftly drawn characters, who seem to leap from the page fully formed, their inner lives as intriguing as their surface lives appear ordinary.
Austen lovers will delight in the book's literary allusions and sly references to her novels. Those with no knowledge of Austen need fear not, however, as a helpful appendix provides plot summaries for each of the books. Personally, I can't wait to read more of Fowler and, indeed, to re-read Austen.
March 2005