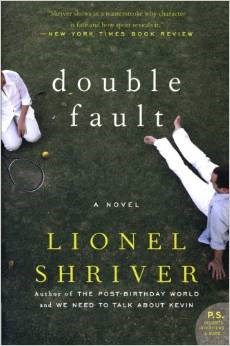 Double Fault
Fiction
Harper Perennial
2009-03-31
352

Every once in a while I am lucky enough to read a book that is amazing. Earlier this year I read We Need to Talk About Kevin by Lionel Shriver, and it was one of 'those' books. While simultaneously loving every minute of reading it and kicking myself for not picking it for bookclub the idea to pick a Shriver book for the club to read was a no-brainer.
The obvious choice would be Shriver's latest book, which has also received rave reviews, The Post-birthday World but it automatically eliminated itself as an option as it is still only in hardback and is quite a tome. So I decided to go for an earlier work, Double Fault.
Although Double Fault hasn't received brilliant reviews I think one of Shriver's strengths lies in her narrative; and as the book is about a married couple who both play tennis and the rivalry within their marriage, I thought it would definitely be a good conversation starter. Our bookclub is made up of seven strong successful women and the idea of evoking a conversation around woman's careers versus men's careers was just too good to resist.
Hopefully I am right and this book will be a really good conversation starter, if the girls enjoy it too, all the better.
A review will be posted here shortly afterwards.
Score awarded by Bibliofemme: 4 out of 5
What the other femmes had to say

"This might not be the best book to give a girl before she's about to get married! That aside, it is an absolutely fascinating look at a partnership between two deeply competitive individuals. A great conversation piece." 4/5
"I will never be able to watch professional tennis again! This is a really good insight into the mindset of someone who trains intensively and cannot focus on anything except their ultimate goal. I found it psychologically unsettling for some reason, definitely very engaging." 4/5