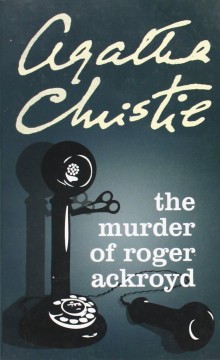 The Murder of Roger Ackroyd
Thriller
Harper Collins publishers
Jan 1 2002
368

Agatha Christie devotees will without doubt have already read the book that catapulted her from leading mystery novelist to the undisputed Queen of Crime. First published by Collins in 1926, 'The Murder of Roger Ackroyd' was Christie's sixth full-length novel. Its controversial finale caused a rift amongst crime fiction fans with the Daily Sketch calling it "tasteless and unforgivable!"
The tale centres on the murder of the owner of Fernly Park "a man more impossibly like a country squire than any country squire could really be". It includes blackmail, other mysterious deaths, illegitimate sons and lots of small town gossip. In the end the mystery is neatly tied up by one of Christie's best loved puzzle solvers: the moustache-twirling Belgian, Hercule Poirot.
The shock value of the novel's central twist – which was originally suggested to Christie by her brother-in-law and by Lord Mountbatten – has lessened somewhat in the intervening 75 years (as Christie herself said "it was an idea that could only be used once"), but the quality of the mystery and the weaving of the tale is still first class.
This 75th Anniversary Edition of the book also contains a short, but rarely-seen foreword by the author in which she defends herself: "Some readers have cried indignantly: 'Cheating!' – an accusation that I have had pleasure in refuting by calling attention to various turns of phrasing and careful wording." And indeed it is the careful wording that calls the reader back to check hidden details once the truth is revealed. A good old-fashioned murder masterpiece.
May 2001