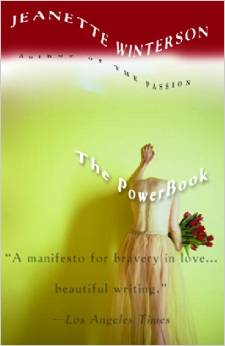 The PowerBook
Fiction
Vintage Books
2001
289

Meeting: Monday 10th December 2001
The pitch sounds so good: "An e-writer called Ali or Alix will write to order anything you like, provided that you are prepared to enter the story as yourself and take the risk of leaving it as someone else."
Set everywhere and nowhere (London, Paris, Capri and cyberspace) The PowerBook does contain some powerful images and concepts that may stay with you, but in the end it feels like a complete con.
Instead of really exploring themes like identity, love, relationships and the nature of writing in the 21st century, it goes on to read like a collection compiled from the author's notebooks – half finished short stories, ideas, paragraphs, character studies.
Yes, this 'modern' structure mimics a kind of web (or internet), but it could also be seen as symptomatic of what is wrong in publishing today. Under pressure to produce another title, writers rush manuscripts and editors balance the time required to turn it into something worth reading with how many copies the author's name will sell before word gets out that it's really not that good. (If this is actually Winterson's way of saying something about the nature of writing in the 21st century, then it's very clever…)
Generally agreed to be a disappointment all round, those who had read other Winterson titles (I haven't) recommended 'Sexing the Cherry' and 'Written on the Body' as far more representative of her skills.
2/5
Score awarded by Bibliofemme: 1.4 out of 5
What the other Bibliofemmers had to say

"a disappointing effort from a writer who has written far better. Try Oranges are Not the Only Fruit or Written on the Body instead." 2/5
"A disappointing, fragmented book from a writer who is capable of far better than this." 1/5
"Was excited about this book when I saw the authors name, but it all went downhill from there – read something by her but not this" 1/5
"A collection of cuttings from the author's floor and sketches from her notebook glued together in a less than satisfactory manner. Some sparkly lines but overall very disappointing. Not to be recommended from this usually interesting writer." 2/5
Also by Jeanette Winterson
Sexing The Cherry