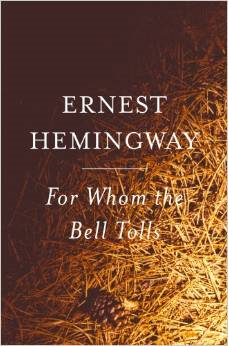 For Whom the Bell Tolls
Classics
Scribner
1995-07-01
480

Hemmingway left a stunning impression on me as a child with his simple and breathtaking novel The Old Man and the Sea. In fact, coming a sharp second to The Red Pony by Steinbeck, I fondly remember The Old Man and the Sea as the next novel to turn my head forever towards a life and love of reading. Revisiting Steinbeck years later turned out to be a deeply enriching experience and I was hoping to repeat the same pattern with Hemmingway. Unfortunately I found nothing but wonder and exasperation with For Whom the Bell Tolls.
I had initially started the book on my way to Barcelona, as I had been informed it was set during the Spanish Civil War and would make a good holiday read while visiting Spain. The first 50 pages had me engrossed until I mislaid my copy. I spent the following year in a state of suspense, wondering what was going to happen to the main character and his mission to blow up a bridge.
Interestingly enough, when I revisited the book for bookclub a year later, those same 50 pages flew by and kept me just as engrossed as my first round. Pity that the novel progresses to low-grade filler from about page 100 onwards to the last 20-30 pages. Without having much previous knowledge of Hemmingway, I got the impression that he was using the book as a platform to relay all his stories he had heard from others, rather than writing from personal experience. In every character and conversation I could hear another story Ernest had heard in the bar during his years in Spain. This was taken to the extreme, so much so that, apart from wise loving rebel Pilar, his characters were flat, one-dimensional and, quite simply, boring. Pilar is the only character that I would trust to hold anyone's interest and I would strongly suspect this character was mirrored on a real rebel. To compound issues further, a lot of the dialogue was in pigeon English. I can only imagine this was to give one a "sense of place", yet my understanding was they were meant to be speaking Spanish. As he was also decorating the pages lavishly with pigeon Spanish, I found this tedious and confusing.
The hero of the novel is an American fighting for the communist party. Although there may well have been many Americans helping the Spanish in their cause, Hemmingway fails to explain why his character is involved. This would have been a very interesting historical aspect to the novel, and one that an author of his stature should have explored…all of this adds up to an image I can't seem to shake: this book was a mere extension of his real life ego and his fantastical illusions that he was doing something other that sitting in a bar, poaching stories and getting drunk.
During discussions at bookclub, we discovered from the Historian and the biography she has recently read on one of Hemmingway's wives, Martha Gelhorn, that my suspicions were very well founded. Apparently Hemmingway did spend a lot of time drinking in Spanish bars while Martha was actually on the frontlines documenting the civil war. I am able to recognize that most authors are inspired by other people's lives, dramas and causes; however, I expected so much more from this book but it seemed to fall short at every turn. Even if Hemmingway had poached all his material from others whilst coddling a martini, he should have been able to document this poignant historical time with more depth, humanity, finesse, structure, dialogue, suspense and plot. Very disappointing. 2/5
Mentioned in the review
Martha Gellhorn: A Life by Caroline Moorehead
What the other femmes had to say

"This was so slow paced, in terms of both language and plot, that finishing it seldom rose above duty-level for me. There were moments of beauty and sadness, particularly in the relationship between Robert and Maria and in the stories Pilar told, which kept me going, but it's not a book I see myself ever returning to." 3/5
"I hadn't actually finished this book in time for bookclub due to getting solidly stuck in the tedious middle part. At that stage I hated Hemmingway and all his obscenity writing. Now, after finishing it, I feel a little more charitable towards For Whom… but not enough to actually recommend it to anyone. A vastly overrated 'classic'." 3/5