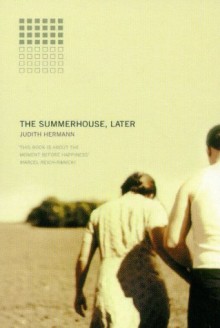 The Summer House, Later
Literature
HarperCollins UK
2001
138

Subtitled "A book about the moment before happiness", 'The Summer House, Later' has variously been described as melancholy, elegant, powerful, touching and reflective – it is all of those things and more. A literary sensation in her native Germany, Judith Herman achieves a kind of stillness in her writing that is both rare and incredibly striking.
Herman's debut is a collection of short stories in which her characters – for the most part – do nothing particularly spectacular. They drink tea, coffee, vodka, smoke cigarettes, go out, stay in, take trips into the countryside and attempt to fathom their relationships, their lives and the their place in the world. An almost intangible air of discontent hovers, yet Herman's descriptions are cinematic in their intensity.
The problem with short stories is that they are often more fun to write than they are to read. Lifting the format to a new level, Herman will change the mind of any reader who dares to presume that a short story collection will be somehow less satisfying than a novel.
She perfectly captures the ordinariness of being a modern human being, celebrating life in its very mundanity and (often) loneliness. And yet there is always the feeling that something more is stirring beneath the surface – that great unknowable that makes life worth living.
Herman's measured eloquence will leave you speechless. Don't let this incredible book pass you by.
July 2002