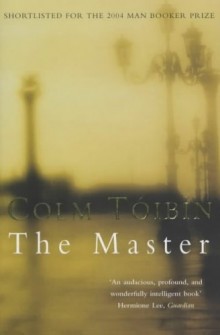 The Master
Literature, Irish
Pan Macmillan
2005-01
359

The Master is Colm Tóibín's sixth work of fiction and by far his best. Shortlisted for the 2004 Booker Prize, Tóibín was unlucky not to win. Focusing on the life of Henry James, Tobin has created a wonderful work of fiction that reads like a biography.
The book opens in 1895 as James' play Guy Domville has received an appalling reception on its opening night. James at this point is 52 and had hoped to finish his career as a successful playwright. This would allow him to perhaps end his "lonely days of solitude" and give him the freedom to mix with actors whom he admires greatly.
Following on from his unsuccessful stint as a playwright James returns to writing fiction. Five years later he moves from London to Rye and it is there that he writes his short masterpiece, The Turn of the Screw.
Tóibín portrays James as a lonely, solitary figure throughout the novel, a man unable to form a committed relationship with anyone, either male or female, sometimes wanting companionship but not closeness, and always needing solitude to work. Through flashbacks, Tóibín shows how James' early upbringing may have been partly responsible for his feelings of isolation.
All of James' novels and short stories are drawn from true life occurrences and incidents that have affected family and friends. Unconsciously he plucks memories from his childhood and uses them to form the basis of his next story. Virtually every aspect of James' life works its way into a story, and as he gets inside the psyches of his characters through his fiction, he reveals his own psyche, his sympathies, and his personal conflicts.
Although the book actually only spans the years 1895-1900, through flashbacks and the way James writes we can form a very detailed picture of the life he lived while growing up. Tóibín addresses many issues in James life including the question of his sexuality and although Tóibín presents James as attracted to some men he refuses to act on this. Tóibín uses the trial of Oscar Wilde both to show James' friends trying to ascertain his sexual orientation, and to remind us of the then legal and public conditions of homosexuality.
This is an absorbing novel and although knowledge of James prior to reading it would be an advantage, it is not necessary, as Tóibín easily explores his interior life and imparts to the reader any information they need to know.
It is obvious that Tóibín has read everything James ever wrote and his interpretation of his life leaves no stone unturned. Highly recommended.
"Tóibín proves himself a master with this superb book. I can t recommend it highly enough."
5/5
November 2004