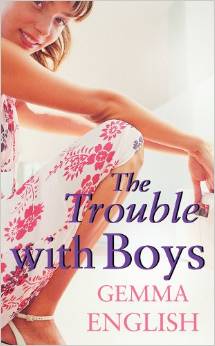 The Trouble with Boys
2005
440

Amelia is very successful. She has a good job and her own apartment – complete with a vicious cat. When her sister Jenny announces her engagement to dull-as-dishwater Mike, Amelia is surprised to discover she is jealous. Her life is stuck in a rut and, at 29, she realises that it may be time to grow up.
She quickly moves in on Ray Donnelly at work and before long is happy in their relationship. But why does Ray constantly have to run off when her phone is ringing. Maybe a part-time boyfriend isn't better than no boyfriend at all.
In the meantime, Jenny's wedding has come and gone and she's pregnant. Amelia is jealous of Jenny's perfect life but is surprised to discover the grass isn't always greener on the other side.
The Trouble With Boys is Gemma English's second novel, and like her first book – Tangled Up in You – is a perfect beach read.
June 2005