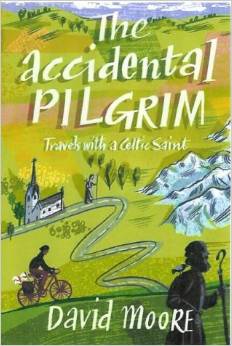 The Accidental Pilgrim
Hodder Lir
288

Subtitled 'Travels with a Celtic Saint', The Accidental Pilgrim is the story of a 2000 mile bike ride by the author from Bangor in Northern Ireland to Bobbio in northern Italy via France and Switzerland.
The journey follows in the footsteps of the Irish missionary Saint Columbanus who travelled the same route in the 6th century.
After surviving Silicon Valley and the dot com boom, David Moore decides to find direction in his life by following the example of the 'bad ass' Saint Columbanus. Likening his hero to Roy Keane in his inability to take orders from authority, Moore narrates his journey using humour and personal detail.
Although this book is really a glorified diary, Moore manages to involve the reader in his journey, by not merely reporting the facts as they occur but by making the trip come alive, a difficult thing to achieve.
Interestingly enough the book really captures your imagination and Moore's incessant use of humour. His inability to communicate with members of the opposite sex, coupled with noteworthy facts about his hero such as:
"Columbanus wrote "Therefore let this principle abide with us, that on the road we so live as travellers, as pilgrims, as guests of the world." Maybe you should enjoy the journey on the road of life wherever it takes you. "It's a powerful way to live, as a guest of the world." – make this far more than just a travel diary.
Recommended.
February 2005