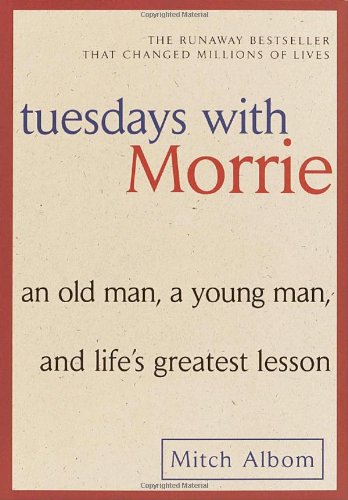 Tuesdays with Morrie
Biography & Autobiography
Broadway
2002
192

I am probably a little behind, as I have only just read Tuesdays with Morrie. This book was apparently responsible for changing people's lives all around the world and has been published in 19 countries in 16 different languages.
Tuesdays With Morrie is a memoir, written by Mitch Albom, about his professor Morrie Schwarz. Mitch had lost touch with his professor, until one night he saw him on the Nightline program – talking to Ted Koppel about what it was like to die from Lou Gehrig's disease. Albom was both horrified and ashamed.
Albom got in touch with Morrie and started to visit on Tuesdays. Describing these meetings as "the last class of my old professor's life had only one student. I was the student," and "a funeral was held in lieu of graduation". Albom documented these meetings and the book was published to help with Morrie's medical bills.
Mitch Ablom's style is simple, lucid and refreshingly original. The author's description of the disease allows even a layperson to understand it. Choices are limited when one is afflicted with a fatal ailment but the good part is that choices can be made. "Do I wither up, or do I make the best of my time left?" the professor had asked himself. This appears in the beginning of the narrative but we already know the professor well enough to know the choice he will eventually make. He will make death his final project. He will prove that dying was not synonymous with useless.
The book is addictive and impossible to put down. Morrie's take on life is refreshingly honest and pure. When Albom asks him what he would do if he could have one day of full health, Morrie replies that he would eat with friends, go for a walk and then go dancing. He does not wish to climb Everest, eat luxurious food or meet a celebrity – he wants to enjoy the simple things in life.
Tuesdays With Morrie is a simple book, but in a beautiful way. It did not change my life but I'm glad I read it.
July 2005