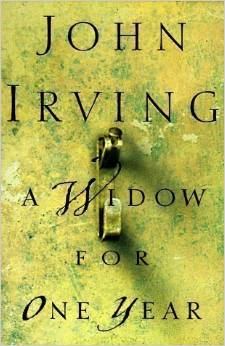 A widow for one year
Fiction
Random House
1999-06-01
667

Despite the fact that this book has been at hand for more than a year, somehow I never got round to reading it. The curse of the familiar bedside book, the "oh, I'll read it soon" book! Somehow, though, it made its way through several culls as I moved and packed, managing to land in my travelling bag as something a captive audience with few other options might finally get around to reading.
That said, it may have remained unread (Henry James' Portrait Of A Lady is still travelling with me!) but for the fact that The Door In The Floor – adapted from the first part of A Widow For One Year – was one of the films on offer as part of the in-flight entertainment package on Malaysian Airlines. My curiosity was piqued, especially when we came in to land before the film ended.
The Door In The Floor is only the tip of the iceberg in this peculiar, sprawling family tale. John Irving's shifting narrative focuses variously on Ruth Cole; her father, children's author, Ted Cole; and Eddie O'Hare, who encounters the family as a young student and is forever tied to them by his experiences in one brief summer.
Unlike the film, in which Ruth only plays a peripheral role, A Widow For One Year spans 37 years in her life. Opening in the summer of 1958, Ruth is a precocious child of four who catches her mother, Marion, and Eddie making love. While she is outside much of the drama of that summer, it affects the rest of her life when Marion walks out on her family – and on Eddie. The second section, set in 1990, sees Ruth become a successful author in her own right, although haunted by the chilling children's stories that her father wrote. An intensely frightening drama of her own making in the red light district of Amsterdam is resolved five years later in the third section of the book, a happier than expected finale.
Never having read any of John Irving's novels, A Widow For One Year was an unexpected treat. The book is a series of jigsaw pieces – different people's experiences, Ted Cole's children's books, Ruth Cole's novels – that only fall fully into satisfying place at the end. Although his use of parenthesis was occasionally annoying, Irving's writing was otherwise fresh and engaging. His descriptions of grief and loss were whole-hearted and evocative, perhaps more true than those of joy, and he has the ability to chill a reader to the bone. Irving is a clever writer but one who does not alienate the reader by pushing this intelligence down their throats.
A Widow For One Year is a book both to read and to recommend.
January 2005