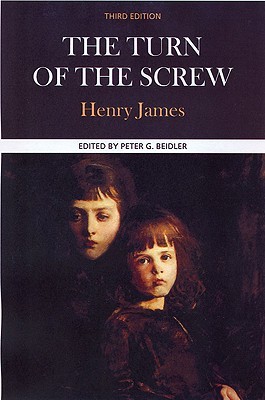 The Turn of the Screw
Classics, Literature
Bedford/St. Martin's
2009-12-29
432

Meeting: Friday 18th February 2005
Henry James' reputation as one of the 'greats' of literature is both wide spread and commonly accepted. With two biographical books published recently, Colm Tobin's The Master and David Lodge's Author, Author, I felt choosing this novel would be both topical and my first opportunity to enter into the world of James' gifted writing.
Widely debated and dividing critics, The Turn of The Screw is above all a chilling ghost story that will leave the reader with unforgettable visions and many questions unanswered. This short novel takes us to a country house where two children are put into the care of a governess, leading the reader into a tale of hysteria, manipulation and the world of the supernatural. Many questions surround the issue of the governess and the validity of her actions – are the ghosts real and the children evil, or is the governess simply an overwrought neurotic, creating her own world and destroying those around her?
Without sitting on the fence, I speculate, upon first read, that the apparitions and sinister acts of the children are real, leading the governess into an ultimate and contributory hysteria. I found the links between the ghosts and the children to be one of the more convincing threads in this twisted tale. With some of the most quietly creepy, sinister scenes I have read to date, I would recommend a windy night, flickering fire and this book- and above all someone to discuss it with when it's all over.
In addition to the above, during the course of our book club, many interesting topics became the source of heated debate, the sudden and unexpected ending, the at times awkward prose and which characters James himself would be shadowing. This is a book that I want to read again in the not so distant future and one that will refreshingly leave you with many stunning thoughts and sights, keeping you contemplating well after the last page has been turned.
I believe this is the beginning of a long lasting relationship with you Mr. James! 4/5
Score awarded by Bibliofemme: 3.4 out of 5
What the other femmes had to say

"In his desire to leave things open to interpretation, James produced some uncharacteristically obtuse writing here. Not my favourite work by him, but great for discussion." 3/5
"James' lofty language here may confound readers but once you've read this utterly chilling tale you'll never forget it. Perfectly-paced and brilliantly told, this classic ghost story should prompt huge discussion." 4/5
"James's writing style may have interfered with a thorough engagement with this fireside intrigue of the spirit and psychological plain but I nonetheless feel I have met an author I will return to again and again." 3/5
"Having read The Master I was delighted to be introduced to James' and although I enjoyed this book, it will take more to make me a James fan." 3/5
"Unfortunately the florid prose disrupted the flow in what would have otherwise been a great story. A good story of a nervous governess and her haunted charges was ruined by lack of tension." 3/5