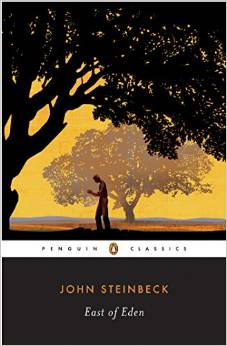 East of Eden
Classics
Penguin
2002
601

Meeting: Friday 30th July 2004
The top scoring Bibliofemme book to date, John Steinbeck's East of Eden certainly has made a strong impression on the femmes.
Where to begin? There are many levels one can analyse this novel. Classic or no? The best of Steinbeck? Life changing? Did Steinbeck accomplish the daunting task that he set out to do? What of the central issues of the book? What is evil and where does it come from? Are we our own keeper? The very fact that there are so many facets to this novel means I would have to say quite simply that it is an extraordinary work of art.
This multigenerational novel is set in the Salinas valley, and spans the life of two families, the Trasks and the Hamiltons. Between these pages one finds Adam and Cathy Trask who will each separately explore the nature of internalising that which we often do not understand: deception, evil, and self indulgence. It is said that Cathy Trask is one of the only purely evil woman in literature, and although I found this to be true, it challenged my own believes on nature versus nurture. There is also the main continuing theme of brotherhood, both within the families and between friends. Often mirrored on the Book of Genesis, this novel explores many themes of Cain and Abel throughout its 601 pages, with good versus evil being the common thread that is revisited. Steinbeck spends nearly as much time developing his epic plot as he does reflecting on our human condition.
As a huge Steinbeck fan, I have always found his writing nothing short of amazing. His stunning, often simple plots, and vivid characters embody our very human nature and he gracefully relays struggle and life lessons with vast wisdom and compassion. In my experience, his reflections and deep human understanding are often delivered more subtly through his characters and plots, where in East of Eden I felt that he spent to much time wandering through the very questions/lessons that his characters were attempting to explore. By doubling up, these wanderings took away some of the magic I have found in reading his other works.
To answer some of the typical questions that surround this novel, yes, for me I would deem this work to be amongst the classics. The book's effect on the audience to date has been powerful and far reaching, something that I am sure that will survive the aeons to come. The best of Steinbeck? Well, I would have to personally put Of Mice and Men above it, and Grapes of Wrath is next on my list to find its place in the Steinbeck pecking order. Life changing? Certain passages will pull you in and stick forever and others will leaving you drowning in contemplation. Did he accomplish the task he set out with? I'm sure only John himself would know, however, I do recall reading that he felt this was his greatest work.
Steinbeck stated that this novel was over thirty-five years in the making and, despite initially being poorly received by critics, it became a best seller almost immediately. This book is still the source of heated ongoing debate for many literary critics, both fans and foes of Steinbeck's legacy.
On the whole I found that I have enjoyed his other books more, and yet this is a book that everyone should read. It is certainly a cut far above the rest.
4/5
Score awarded by Bibliofemme: 4.7 out of 5
What the other femmes had to say

"To say I loved this book would be a complete understatement. This book draws you in, there is nothing Steinbeck can't do, not only does he explore the meaning of life, the storyline in this books gallops along like any of the best thrillers I have ever read, couldn't put it down – didn't want to put it down." 5/5
"While there's no doubting Steinbeck's brilliance as a writer, his shorter fiction is far more affecting. This literary tome flagged at times and the sheer bulk distracted from the story. Still a must read though." 4/5
"A great book in every sense of the word. Steinbeck defies the roles played by destiny and delusion in shaping our lives, at the same time demonstrating their inexorable draw. A thought-provoking masterpiece and an absolute pageturner!" 5/5
"I loved this book. Every time I laid it aside, the characters stayed with me and I never could read enough of their lives in the Salinas Valley. While Steinbeck sometimes over-emphasised the Cain and Abel references, East of Eden is as near flawless as you're going to get from a novel. A classic that truly deserves to be called so." 5/5
"A great American saga and genuine classic." 5/5
"A true gem, great storylines, believable characters all ambling along at wonderful pace, slowing up sometimes and putting the foot down just at the right moment. Thoroughly enjoyable." 5/5
To view the online discussion click here