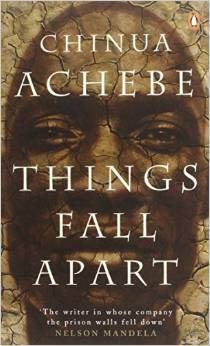 Things Fall Apart
Igbo (African people)
Penguin Classics
2006-01-01
196

Meeting: Friday 16th January 2004
My reasons for picking 'Things Fall Apart' are many. As with my other bookclub choices, I wanted to go for a different nationality (and in this case continent) to get us discussing literature from all over the globe. This book was recommended to me more than once and I've wanted to read it for a long time. I also wanted to look at something with culture and politics at the centre of the story, even if the latter is structured in a way that might seem unfamiliar to readers in the modern day Western world. Although it's a book about a community, it is really the story of one man. The equilibrium of his world is upset by two factors – his own actions and the things going on around him that he has no control over.
Okonkwo is a proud, brave warrior struggling to step out of the shadow cast by his under-achieving father. He runs a tight ship – with several wives and children – and all seems well until he gets involved in the ritual killing of his foster son and the accidental murder of clan member. Okonkwo is exiled at the peak of his power within the tribe and through the passage of time, things fall apart and will never be the same again. His position has changed, customs are dying out and the white man stalks his beloved land.
This is a magical book, riddled with customs inherent in many old cultures – story-telling, communal living, superstition and the occult are a way of life. Yes it's savage and brutal, but the violence is born of an era and even reminds us that the genocides of Rwanda are not that far in the past. The narrative moves around in eddies, like the circles of the tribal dances in the story. It's full of colour and passion and Achebe's reportage is never biased – he merely tells it like it is. There are wonderful sayings and proverbs aplenty that will stay with you but it is the story of Okonkwo that impacted on me the most.
This is the black man's rebuttal of Joseph Conrad's 'Heart of Darkness' and it's a far superior book. I loved it and plan to read more of Achebe's work.
4/5
Score awarded by Bibliofemme: 3.6 out of 5
What the other femmes had to say

"Incredible tenderness and sudden savagery find common ground in a tale that says more about the universality of the human condition than it might first seem. Highly recommended." 3/5
"Achebe takes us on a journey through his homeland that allows us a glimpse of true native Africa. Although savage it is also beautiful, a well told story and highly educational!" 4/5
"A simply-written journey into a land of savagery and ritual." 3/5
"Chinua Achebe writes of the richness of African culture and the arrival of the outside world in a story that will have resonance for anyone with an interest in history, particularly colonial history. A powerful and still relevant book." 3/5
"Excellent. One man's tale that provides powerful insight not only into another culture, but also into the ruinous elements of change." 4/5
"An unbiased account of an African culture at a time of change. A worthy read." 4/5