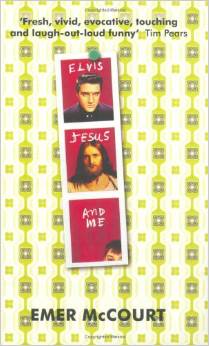 Elvis, Jesus and Me
Brothers and sisters
Virago Press
2004
212

Ger is 12 years old and her holy trinity is Jesus, Elvis and Neil Armstrong. Her daily prayer consists of "Dear God, please turn me into a boy tonight. I'll be good forever…and I'll give all my pocket money to the starving babies in Africa." Seany is her younger brother and, although he adores Ger, he is delighted to have one up on her by actually being a boy himself.
Seany is also our narrator. Describing himself as 'topsy-turvy', Seany gives us a blow-by-blow account of life in Northern Ireland in 1973. The family live in 'no man's land' beside the border with the Republic and, while other areas of Northern Ireland were far more dangerous at the time, soldiers, police and shootings are all part of Seany and Ger's life.
Like many of us, Seany and Ger come from a dysfunctional family. Dad is an alcoholic and their mother, though acting like a saint, carries a guilty secret.
Although this novel could be described as an unexceptional read, it has moments of hilarity. McCourt has a lovely style and the reader is compelled to keep going. As a debut novel this is an excellent effort. I look forward to her next novel.
October 2005