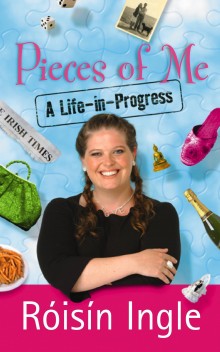 Pieces of Me
Biography, Irish
Hodder & Stoughton
2005
413

If you are an Irish Times reader you are probably familiar with Róisín Ingle. She writes a column in the Irish Times Magazine every Saturday and seems to be either loved or hated by the readers. Pieces of Me is a collection of the articles that she has written over the last three years.
Róisín grew up in Sandymount, Dublin, living two doors down from the "greatest chipper in the world." One of eight children, her dad died when she was only eight years old.
She never had time for religion, but says she had a brilliant relationship with the local Sisters of Charity, and the living, loving saint Sister Agnes Philomena gave them money, second-hand clothes and toys. The family put on a play for Sister Agnes Philomena and the other Sisters at Christmas.
Before becoming a journalist, Róisín tried her hand at everything from childminding, waitressing and even cloakroom attending. When asked to take over the Regarding Ireland column she says she was scared witless and would have been more interested if the column was called Regarding Róisín. Three years later, though, Róisín has placed her own stamp firmly on the column. Her unique style of writing in relation to herself and her family is endearing and although described by one reader as a flittertigibbet Regarding Róisín is now one of the most popular features of the Saturday magazine.
Written in an open humorous style, Pieces of Me is a delightful collection of Róisín's best work. This a book that you can dip in and out of and every reader will relate to some aspect of it. Recommended.
November 2005