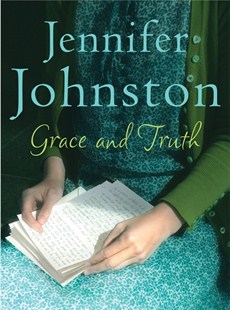 Grace and Truth
General Fiction
Headline Review
2005
250

Jennifer Johnston is a great storyteller, that much is true. I'm told graduates of the Irish secondary school system are likely to have encountered her coming-of-age novel Shadows on Our Skin, which was Booker Prize listed in 1977, but I had never come across her work until I read and thoroughly enjoyed This is not a Novel in 2002. I was quietly won over by the simplicity with which she draws the reader in and the unselfconscious style of her writing. I intended to read more, but her name didn't cross my horizon again until the publication of her fourteenth novel, Grace and Truth earlier this year.
Grace and Truth tells the story of Sally, a popular Irish stage actress with a Hollywood career beckoning. She has just finished a European tour as Pegeen Mike in JM Synge's Playboy of the Western World and returns to Dublin to be immediately blindsided by her husband's announcement that he is leaving her.
It emerges fairly quickly that Sally's biggest problem has always been her mother's refusal to tell her who her father is. With her mother dead (from a pill overdose), her husband gone and some time off before she decides whether or not to take her much-lauded Pegeen to Broadway, she turns to her only surviving relative in a last ditch attempt to uncover the truth. The man she believes holds the key to her past is a dour Church of Ireland Bishop, who is also her grandfather.
The book's momentum comes from its measured progression towards the final revelation. It would be sacrilege to reveal any more, but I have to admit the nature of the eventual disclosure was apparent to me almost from the very beginning. I don't know if I simply guessed well or if Johnston gives too much away (other reviewers have had mixed reactions), but for me, when the truth came it offered not so much a surprise as an odd kind of relief.
It is to Johnston's credit that, even if you guess the truth, this is still a highly enjoyable read. Her dialogue, characters and the various incidents that punctuate Sally's quest for answers ring with true-to-life honesty. The Iraq war plays on 24-hour TV news channels as a backdrop throughout and Sally reads and re-reads Waiting for Godot, begging her sleazy agent to find a way for her to play the part of Vladimir in Beckett's existential two-man play.
At just over two hundred pages, Grace and Truth makes for a fairly quick read. But its simplicity is deceptive and despite my disappointment at figuring out Sally's truth, I found more than enough to keep me turning the pages.
Score: 3 out of 5
May 2005