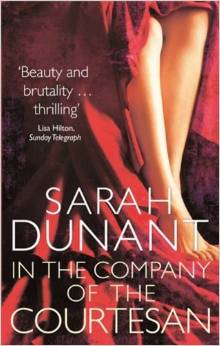 In the Company of the Courtesan
Courtesans
Virago Press
Jan 1 2013
408

After the success of The Birth of Venus, Sarah Dunant returns to the realm of historical fiction for In the Company of the Courtesan. Like her earlier book, this is also set in the same time period, the 1500s, and location – Renaissance Italy. The courtesan of the title is the beautiful and celebrated Fiammetta Bianchini and one of the most important members of her household is our narrator, the dwarf Bucino Teodoldo.
Their life of luxury and decadence in Rome comes to an abrupt end with the sacking of the city by Charles V's imperial Protestant troops. Escaping the widespread rape and pillage with little more than their lives, Fiammetta and Bucino travel to a new life in Venice. There, they gradually pick up the threads of their lives again as old enmities are resurrected and new friends discovered. Life in a courtesan's home is seldom dull, especially as the ever-constant and cunning Bucino describes events, clients, friends and enemies from his own unique perspective.
As in The Birth of Venus, Dunant grounds her story by placing her imagined people alongside real historical characters – the main two here being author, playwright, poet and satirist Pietro Aretino and the painter Tiziano Vecellio, better known as Titan. Her vivid portrayal of sixteenth century Venice, in all its silks and stinks, is enthralling as is her ability to look beyond the simple historical and religious facts and see how individuals were affected by the events of the time.
In the Company of the Courtesan won't disappoint the many fans of The Birth of Venus and will garner many more followers for Dunant's works of historical fiction. A great read.