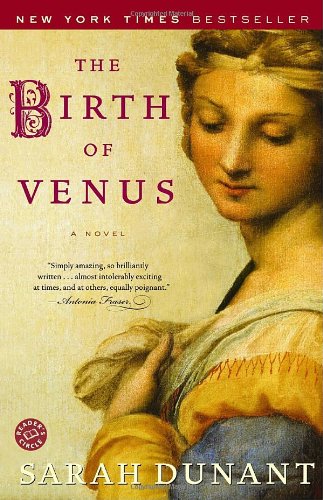 The Birth of Venus
Historical Fiction
Random House Incorporated
2004
403

The Birth of Venus is set in Florence during the turbulent 15th century. The city, once steeped in years of Medici luxury, is besieged by plague, threat of invasion and the righteous wrath of a fundamentalist monk called Savonarola.
This book interweaves Florentine history with the coming-of-age story of 14-year-old Alessandra. Unlike her counterparts, Alessandra is highly intelligent. She can speak Latin and Greek and has very little interest in dancing and clothes – but her dream is to become a painter. Unfortunately, the sole purpose of girls in 15th century Florence was to marry rich husbands and produce many children.
Alessandra's story, though central, is only one part of this multi-faceted and complex historical novel. Dunant's characters include a fascinating array of women, each representing the various fates of the early Renaissance female: Alessandra's lovely (if simple) sister Plautilla is interested only in marrying rich and presiding over a household; the brave Erila, Alessandra's North African servant (and willing accomplice), has such a frank understanding of the limitations of her sex that she often escapes them; and Signora Cecchi, Alessandra's beautiful but weary mother tries to encourage yet temper the passions of her wayward daughter.
As Florence struggles in Savonarola's grip, a serial killer stalks the streets, the French invaders creep closer, and young Alessandra Cecchi must surrender her "childish" dreams and navigate her way into womanhood.
Sarah Dunant masterfully blends fact and fiction, producing a novel that is both exciting and enchanting.
October 2004